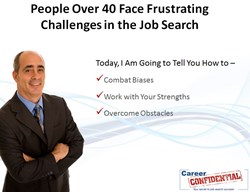 Dallas, TX (PRWEB) June 01, 2013
Career Confidential and Interns Over 40 are hosting a complimentary webinar on June 5th about how older job seekers can beat age discrimination in the job market— Five Tips to Beating Ageism For Job Searchers. Two career specialists, Peggy McKee and Bobby Edelman, will focus their expertise on how older job searchers can avoid age discrimination while searching for their next career. The tips and advice to beat ageism that go beyond telling job seekers to dye their hair or to leave dates off their resumes.
The Five Tips to Beating Age Discrimination For Job Searchers Webinar will show older job searches how to avoid the top 5 biggest age-related biases they may face. The presenters will also provide proven tips to avoid any age-related pitfalls on resumes. Additionally, when job seekers register, they will receive a complimentary podcast called the Guide to Getting a Job When You Are Over 50. For those who attend and complete the webinar, they will receive two additional complimentary gifts.
This joint webinar brings two leading experts in the career coaching field together. Peggy McKee is Career Confidential's career expert. She has over 15 years of experience helping all types of job seekers land their new careers. Bobby Edelman is the founder of Interns Over 40, which helps older job seekers develop the skills they need to land their dream careers. Click on the link above and register today!
Career Confidential is Committed to Getting America Back to Work
Career Confidential was founded in 2009 under the guidance of CEO Peggy McKee and CTO Carl Chapman, two nationally recognized experts in the field of job search training. Career Confidential's successful first product, the 30/60/90 Day Business Plan, spurred the creation of over 30 products today that provide tools, techniques, and tips to help every job seeker find the perfect job.
Career Confidential exploded in 2012 with a 94% growth rate over 2011 in a down economy. After assisting over 10,000 people get jobs, Career Confidential has set a goal to get at least 10,000 more people into successful careers in 2013. Career Confidential is committed to getting the unemployed back to work in 2013.
Peggy McKee, a nationally recognized career expert, is available for personal career coaching. For questions about this topic or any other inquiries, call Zanetta Siciliano at 800-691-2562.