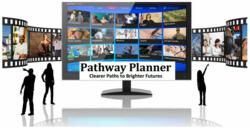 Easton, MA (PRWEB) February 13, 2013
How often has anybody heard someone saying: I hate my job? Or maybe the person simply doesn't know what career path to follow? Choosing a career path is a big decision that will impact anyone time, expenses, location and many other variables. It is important to understand personal innate behaviors and interests when trying to match oneself to the right job. Realize: "Skills can be taught, but behaviors are much more difficult to change."
Pathway Planner is an in depth planning and personal assessment one can use as an educational and career planning tool to help discover what career possibilities suit best. Research shows when someone finds the right career match, the probability for success and satisfaction increases dramatically.
Whether the person is in pre-college, in college or simply in transition seeking the right career fit, Pathway Planner provides critical decision making information to help shape a better and joyful future.
Created by Profiles International, the Pathway Planner offered by Bluebell Consulting Solutions will

Provide an overview of people unique strengths, talents, and abilities.
Assists students with selecting majors and degrees that match their Thinking Style, Behavioral Traits, and Interests.
Identifies career possibilities and provides insight into occupations for the highly-skilled, competitive workforce.
Assists adults in transitioning from one career to another.
Call today and get a free consultation and find out what career best match.