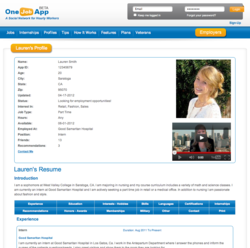 OneJobApp utilizes mobile technologies and its social media component to connect jobseekers with employers and also jobseekers with other jobseekers
Los Gatos, CA (PRWEB) April 23, 2012
OneJobApp, Inc. has launched a new social network website for hourly workers designed to help jobseekers and employers easily connect and share information.
Today OneJobApp announced its participation in the Summer Jobs+ program sponsored by the White House and Department of Labor. Together with its Summer Jobs+ participation, OneJobApp is also launching its Find a VET – Hire a VET program developed to help returning war veterans find a job, and to help employers easily find them.
OneJobApp makes it easy for jobseekers to create a media-rich job profile online for free that includes a picture and video option along with a resume. Then with its one-click application process their job profile is submitted to prospective employers. OneJobApp helps jobseekers easily manage and track all of the jobs they have applied to from their mobile device, including tracking the status of their application as employers review them. In addition, OneJobApp enables jobseekers to network with friends in order to leverage relationships to discover new employment opportunities and obtain referrals and recommendations – things that really count with prospective employers.
Employers find OneJobApp a must have service because it provides free job ads and a simple, scalable cloud based solution to manage all of their job ads along with the profile-resumes received. OneJobApp provides a management dashboard with filters and keyword search that employers use to quickly find the best-qualified applicants and share profile-resumes with coworkers. "The job application processes that are currently being utilized from leading job boards are antiquated and very time consuming for both jobseekers and employers," states Ron McInnis, founder of OneJobApp. "Our service brings the application and hiring process into the 21st century saving employers time and money. OneJobApp utilizes mobile technologies and its social media component to connect jobseekers with employers and also jobseekers with other jobseekers." If employers are not receiving the right type of applicants they want, they can search the jobseeker database to zero in on the exact type of candidate they are looking for, while accessing thousands of potential candidates.
About OneJobApp:
Founded in 2011, OneJobApp is reinventing how hourly workers apply for jobs using media rich job profiles and resume technologies along with how employers receive and manage hundreds of job applications. OneJobApp is committed to our men and women of the armed forces with its special Veterans component that helps employers easily find and hire Veterans and benefit from the payroll tax credits. For more information on the company, please visit http://www.onejobapp.com