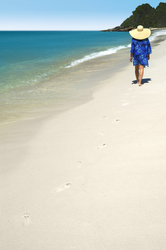 At Home Instead Senior Care, we recognize the dedication and hard work required to provide care for a loved one, and we understand how stressful caregiving can be
Omaha, NE (Vocus) July 7, 2010
Jean Jenkins, a family caregiver who moved home to care for her 83-year-old ailing mother, after being displaced by Hurricane Katrina, knew first-hand how stressful caregiving could be when she entered the 2009 Caregiver Cruise Getaway Contest.
At the time, Jean and her husband, Len, were helping prepare her mother's seven different medications in an organizer every Sunday and making sure she took her meds every morning and at night. They were doing the cooking and cleaning, and maintaining the 35-year-old family home. Jenkins was making all of her mother's doctor's appointments and going with her to those check-ups.
A five-year study conducted for the Home Instead Senior Care® network revealed that stress can have a devastating impact on family caregivers. Fifty-eight percent of caregivers say they are getting ill more frequently and that caregiving is taking a toll on their jobs. Furthermore, 81 percent say their loved ones' needs are becoming overwhelming compared with 73 percent who thought so just four years earlier.
A particularly stressful day drew Jenkins to the Internet where she was looking for tips on how to cope. That's when she discovered the 2009 caregiver cruise.
Family caregivers like Jenkins know what a treat it is to simply have a break from the fulfilling yet demanding rigors of caregiving. So those caregivers, as well as their friends and families, can visit the 2010 cruise sweepstakes Web page before the August 15, 2010, deadline to enter or nominate someone else for the drawing, which will take place August 16, 2010.
The five-night, six-day Caregiver Cruise in the Caribbean is scheduled for January 3 to January 8, 2011. In addition to the cruise and airfare to and from the cruise port – for one caregiver and one guest – the winning recipient will receive 40 hours of free care from a Home Instead Senior Care professional CAREGiver(SM) for their senior loved one while they are away.
As an additional bonus, friends or family who nominate a caregiver for the contest are entered into a separate drawing for a laptop computer and camcorder.
"At Home Instead Senior Care, we recognize the dedication and hard work required to provide care for a loved one, and we understand how stressful caregiving can be," said Paul Hogan, co-founder and chairman of the Home Instead Senior Care network. "That's why we want to offer caregivers a break – a time to rejuvenate body and soul."
Home Instead Senior Care also sponsors the Caregiver Stress Web site, which contains tips and resources to help make family caregiving a more rewarding and loving experience.
###