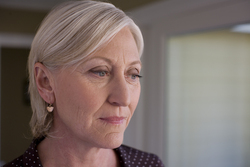 Family caregivers lack most the communication skills to talk with their aging loved ones and practical knowledge about the options and services that are available
Omaha, NE (Vocus) September 16, 2010
A study of family caregivers who responded to a survey on caregiverstress.com, conducted for the Home Instead Senior Care® network, revealed that nearly half (45 percent) rarely if ever get assistance from friends.
"In spite of the fact that 44.4 million Americans are caregivers to adult friends or family members, that feeling of being alone in the crowd is increasing prevalent," said Dr. Amy D'Aprix, who holds a Ph.D. and master's degree in social work and is author of From Surviving to Thriving: Transforming Your Caregiving Experience. "Research has confirmed that we don't have the social support we did 25 years ago, in large part because people are not embedded in their communities," D'Aprix added. "People don't have as many deep friendships and they're reluctant to ask for help."
When it comes to getting down to the basics of knowing what options are available to older adults and how to discuss those resources, seniors and their adult caregivers are often at a loss. "Family caregivers lack most the communication skills to talk with their aging loved ones and practical knowledge about the options and services that are available," D'Aprix said.
One thing seniors know for sure, though, is where they want to be as they grow older. "Industry surveys consistently reveal that between 85 and 90 percent of seniors want to age in the comfort of their own homes," said Paul Hogan, co-founder and CEO of the Home Instead Senior Care network. "But seniors and their caregivers often don't know how to get help they need." That's why the Home Instead Senior Care network has launched Caring for Your Parents: Education for the Family Caregiver."
This family caregiver support series addresses a variety of common senior situations such as choosing an in-home care provider, the signs of aging, long distance caregiving and communicating with aging parents.
Communication is one of the most difficult barriers that families can face and one that often contributes to a family caregiver's feelings of isolation. "There's role strain – people trying to take care of their own families and jobs – so family caregivers tend to neglect themselves," D'Aprix said. "That's why it's important they be honest with senior loved ones. Caregivers need to get over the idea that they need to do it all themselves. If you're a family caregiver feeling the need to cut self-care, you're doing too much on your own. Go to professional support such as caregivers and associations for help. And talk to your loved ones."
When broaching sensitive conversations with seniors, put yourself in a senior's shoes and think of how you would want to be addressed in the situation. Consider these tips, from the Home Instead Senior Care family caregiver support series:

Be mindful of your approach and speaking methods.
Move toward solutions that provide the maximum amount of independence for the older person.
Look for answers that optimize strengths and desires.
Remember that you are talking to an adult, not a child.
Not everything needs to be solved right away.
Other tips that can help families address sensitive situations such as money troubles, dating or driving are available in the Senior Care Resources section of the company's Web site.
Family caregivers shouldn't put off having important conversations with their loved ones and researching resources that can help them achieve their desires, D'Aprix said. Putting a plan in place will also help caregivers feel less isolated and stay healthy, she noted.
"Most caregivers can go into crisis mode to rally around a loved one short-term, but you can't be totally immersed in a crisis mode long-term without having family, work and health suffer."
For more about communication and family caregiving, as well as other topics important to seniors and their families, go to the Caregiver Stress Web Site sponsored by Home Instead Senior Care.
###