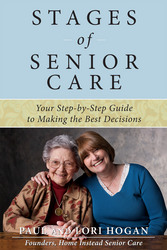 The public must get informed about senior care and have those important conversations about needs and wants
Omaha, NE (PRWEB) January 18, 2010
A recent survey of family caregivers and seniors conducted for the Home Instead Senior Care network revealed that there is little understanding of senior care costs, even in a time when members of the Baby Boomer generation are about to enter their senior years.
What's more, planning for care has been out of sight and out of mind for half of seniors ages 65 to 75, who have not thought about their own future care needs. But with the over-65 population projected to double by 2030 in America alone, more and more families are waking up to the reality that they need help.
"Families today face three challenges: they're unaware of the care options, they don't understand the care costs or financing and they have not planned for care," said Home Instead Senior Care Co-Founder and CEO Paul Hogan, co-author of Stages of Senior Care - Your Step-by-Step Guide to Making the Best Decisions (November 2009/McGraw Hill).
The good news: there are more resources than ever to help families cope with the needs of an aging loved one. And that means that the home health care industry is poised for "enormous growth - and opportunities" in the coming years, according to Inc.com's Best Industries for Starting a Business in 2009.
Sadly, not everyone has the knowledge they need to make informed decisions. Research reveals that both seniors and adult caregivers are missing the mark when it comes to the costs of senior care, overestimating such popular options as Assisted Living Facilities and home care, and underestimating the price of nursing homes.
For example, the average cost of nursing home care in the United States is $78,000, while family caregivers estimate that to be $59,000 and seniors believe the cost to be $65,000. Assisted Living Facilities, on the other hand, average $36,000 annually. Adult family caregivers believe ALFs cost $47,000 while seniors think the annual price tag is $49,000.
Home care costs were as much a mystery to family caregivers and seniors, with those groups estimating the annual cost at $29,000 and $28,000 respectively. In reality, home care costs average only $18,000 annually.
"These numbers emphasize the need for education and the importance of planning, both of which will help fuel that industry growth," Hogan said. "The public must get informed about senior care and have those important conversations about needs and wants," Hogan said. (For tips on talking about sensitive subjects, go to http://www.4070talk.com.)
Hogan believes that Baby Boomers can avoid being surprised by a sudden need for senior care by planning in advance. And potential business owners who like the idea of making a difference in the lives of seniors can find a fit with non-medical, in-home senior care franchises.
###