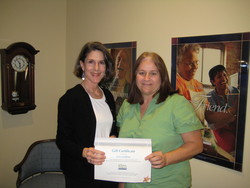 My mother was a single mom who had raised four kids in her home and she wouldn't leave
Long Beach, Mississippi (PRWEB) January 23, 2009
Jean Jenkins, a family caregiver who moved home to Long Beach to care for her 83-year-old ailing mother after being displaced by Hurricane Katrina, is the winner of the caregiver cruise giveaway from Home Instead Senior Care. The five-day cruise sets sail February 9, 2009, from Miami with nearly 50 other professional and family caregivers as part of the Caregiver Stress Management Cruise, sponsored by Openseas Travel on Celebrity Cruises.
Jenkins, who will be accompanied on the trip by her husband Len, was selected from more than 3,000 caregiver entries for the Caribbean vacation she had always dreamed about. In addition to the trip, Jenkins will receive 50 hours of free care for her mother from the Mississippi Gulf Coast Home Instead Senior Care office during the week she is on the cruise.
"After hearing Jean's story, no one could dispute that she is a deserving recipient of this special getaway," said Paul Hogan, Co-Founder and CEO of Home Instead Senior Care. "We are thrilled to offer her this respite break, which we know from experience that many family caregivers need."
When Hurricane Katrina hit in 2005, the Jenkinses were with Jean's mother in her family home in Long Beach, just a few houses from their own home. "My mother was a single mom who had raised four kids in her home and she wouldn't leave," Jenkins said. While they were hunkered down with her mom, Jean's own home was destroyed in the storm and her family lost everything. Her husband's employer relocated the couple to Alabama while her mother stayed in Long Beach, under the care of other relatives including the couple's 20-year-old daughter.
When her mother's health took a turn for the worse last March, the couple returned to Long Beach and moved into the family home with Jean's mother. Jean has assumed full-time care of her mother since then.
"I have to prepare her medications because she's on about seven different ones," Jenkins said. "I assemble them in an organizer every Sunday and make sure she takes them in the morning and at night. My husband and I do the cooking, cleaning and maintaining the home, which is more than 35 years old. I make all mother's doctor's appointments and go with her. I have a wonderful boss who allows me that time," said Jean, who is a receptionist for an attorney. "I also take her to church on Sundays and Wednesdays."
Even though she enjoys caring for her mother, a particularly stressful day balancing the responsibilities in her life sent Jenkins to the Internet for help. "I wanted to look up some caregiver tips and find out how other people deal with this situation." That is when she discovered the registration for the caregiver cruise contest. "I'm in awe of all of it," she said of her win.
Jenkins and her husband will be traveling with 50 other caregivers on the Caregiver Stress Management Cruise, which features respite, relaxation, entertainment, fun and educational support for family and professional caregivers, according to T. Patrick Toal, founder of Openseas Travel. "Cruising is worry-free travel because almost everything is included in the travel package. So, the caregiver can spend more time focused on relaxing and enjoying all the amenities a large cruise ship has to offer with the added security of being part of a smaller, organized group," he said. Toal said there are also many benefits of being with other caregivers who understand the same stresses and challenges that caregivers encounter in their lives.
Two caregiver cruises are planned for 2009. Radio Talk Show Host and Author Dr. Teena Cahill will be offering the welcome on the first day of the February Caribbean Cruise, and author and long-term care expert Lisa Gwyther will be giving the welcome on the September 2009 Alaskan Cruise. For more information about Caregiver Stress Management Cruises, log on to http://www.caregivercruises.com. For additional information about Home Instead Senior Care, log on to http://www.homeinstead.com.
To arrange interviews with Jean Jenkins, contact Sally Stalnaker (888) 296-2411 ex. 3.
###