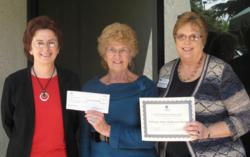 Often families and friends don't know how to comfort someone who is grieving. Those who have suffered a loss often feel alone and isolated.
Sunnyvale, California (PRWEB) May 17, 2012
Pathways Home Health & Hospice recently received a grant for $10,000 from the CareMore Foundation. The grant will help support Pathways' bereavement and grief counseling services to senior patients over the age of 60 located in Santa Clara County. Pathways Home Health & Hospice cares for more than 750 patients per day and over 5,300 annually, of which 90% are aged 60 or over.
"Most seniors have experienced the loss of a loved one and all of the sadness and strong emotions associated with those losses," said Beje Schweitzer, CareMore Foundation Regional Representative in the Santa Clara County. "The mission of the CareMore Foundation is to care for seniors and provide for those who would otherwise be compromised due to lack of support or resources. Our grant to Pathways will support grief counseling for seniors whom may need additional comfort during a difficult time."
Pathways Home Health & Hospice's Bereavement Services provide grief support to all in the community, regardless of whether their loved one was a Pathways patient or not. In 2011, Pathways provided 14,500 grief support visits and calls, all at no cost to the client. Pathways has one of the most comprehensive grief programs of any hospice in the Bay Area. The services include support groups, individual counseling, phone calls from specially-trained and supervised volunteers, and mailings that explain the grief process and that suggest ways of coping with grief. In addition, Pathways also offers memorial remembrance services centered on the spring and winter holiday season, as well as structured workshops throughout the year.
"Often families and friends don't know how to comfort someone who is grieving. Those who have suffered a loss often feel alone and isolated," said Sandra Coolidge, Pathways Vice President of Admissions, Community Relations and Philanthropy."Our bereavement programs are possible because of the support from our donors and grants such as the one we received from the CareMore Foundation. This grant and the support it provides is greatly appreciated."
About Pathways Home Health & Hospice
Pathways Home Health & Hospice is a non-profit community based organization. Celebrating its 35th anniversary, Pathways was founded in 1977 by a group of physicians who saw a community need for compassionate end-of-life care. That year Pathways served 12 patients. Pathways now serves over 5,000 families annually in five Bay Area counties.
Pathways cares for patients in their place of residence, whether it be their home, hospital, nursing home or assisted living facility. Affiliated with El Camino Hospital and Sequoia Hospital since 1986, Pathways is accredited by The Joint Commission and is a member of the Visiting Nurses Association of America, California Hospice & Palliative Care Association, and the California Association of Health Services at Home.
For more information about Pathways services, summer grief workshops, volunteering, or making a donation in support of Pathways' families, call 1 (888) 755.7855 or visit http://www.pathwayshealth.org/
About CareMore Foundation
The CareMore Foundation was established and funded through a donation from CareMore's parent company, CareMore Medical Enterprises, based in Cerritos, California. CareMore Health Plan is a Federally-approved Medicare Advantage plan currently serving more that 60,000 Medicare members throughout Southern and Northern California, Las Vegas, Nevada, Tucson and Phoenix, Arizona. For information regarding The CareMore Foundation, you can contact Beje Schweitzer at 408-503-7632, or 562-622-2968 for a Cerritos representative.