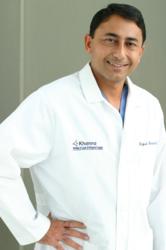 Urban poor need compassionate eye care to prevent blindness
Los Angeles, CA (PRWEB) October 21, 2011
Vision is important even to the poor. The urban poor are sometimes not able to afford modern day eye care. Dr. Khanna believes everyone should have good eyesight. Therefore he is volunteering with CareNow, to help the less fortunate people of Los Angeles. The event will be held in Los Angeles sports arena. Vision care, including glasses and referrals for surgery would be provided.
CareNow brings help and hope to the uninsured and under-served in America's urban centers. Their mission is to promote the wellness of underserved urban populations by organizing community resources and volunteers into free clinics providing quality, sustainable care.
Rajesh Khanna, MD is board certified by the American Board of Ophthalmology. He has specialized training in LASIK, Cataract and Corneal surgery from the University of Cincinnati.
Dr. Khanna is known as the LASIK surgeon to the stars, as he has performed over 10,000 vision correction procedures on many Olympic medal winners and Hollywood personalities like Disney stars Brenda Song and Corbin Bleu, "Hercules" Kevin Sorbo, UFC champion fighter Bas Rutten, and Butch Patrick who played Eddie Munster. He also performs Intacs Surgery for keratoconus.
Khanna is a voluntary member of the UCLA faculty, as well as of the American Academy of Ophthalmology and the American Society of Cataract and Refractive surgery.
The Khanna Vision Institute has centers in Beverly Hills at 240 S. La Cienega Blvd. #250 and Westlake Village at 179 Auburn Court #1.
# # #