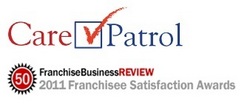 Scottsdale, AZ (PRWEB) March 2, 2011
Upside Group client, CarePatrol Franchise Systems, LLC has won a Franchisee Satisfaction Award from the Franchise Business Review based on a survey of more than 10,000 franchisees representing more than 300 franchise brands. CarePatrol was ranked #6 overall for all franchises under 50 units and #1 for the Senior Care Franchise category.
"We are extremely proud to hear of this recognition; our franchisees work very hard in a very bad economy and are still gracious enough to verbalize their satisfaction in the Franchise Business Review survey. We have big plans for 2011 and beyond for our franchise system and franchisees."

Franchise Business Review distributes the Top Franchises Award annually to franchisors with the highest overall franchisee satisfaction according to an annual survey of operators. Franchisors request the free survey, which is offered to all active franchisees that have been in business for at least three months.
Upside Group Franchise Consulting is a full service, boutique franchise consulting firm with offices across the country. They have a handpicked, professional staff with decades of franchise experience from all disciplines of the franchise industry. Upside Group Franchise Consulting offers their clients a full suite of franchise services including innovative franchise marketing programs, outsourced franchise sales, franchise sales training, franchise lead screening, franchise manuals, franchise marketing collateral, and award winning web design. Headquartered in Scottsdale, Arizona, Upside Group Franchise Consulting regularly speaks at International Franchise Association events, serve as contributing writers for several franchise industry publications and have instructed at Nova University, the nation's leading institution for higher education in the franchise industry.
To learn more, visit:
http://www.upsidefranchiseconsulting.com/UpsideGroupFranchiseConsultingClients-carepatrol.php#request
# # #