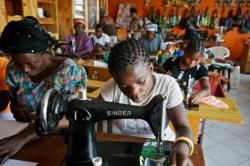 Gift $20 this Holiday season and make a significant impact with Care Through Action
San Francisco, CA (PRWEB) December 08, 2011
Care Through Action is a unique charity that places a spotlight on human rights abuses through the use of dramatic images. In turn inspiring viewers to support carefully selected non-profits helping those depicted. Every two years a specific "area of focus" is selected and the current focus is on survivors of sexual violence in the war-torn region of the North Kivu Province of the Democratic Republic of Congo. This single-issue focus allows us to pool our dollars to make a significant impact. Once chosen, local organizations working within the area of focus, are carefully evaluated and one or two are selected as partners. With these partners, it is possible to select specific projects that are funded and projects are continually monitored to ensure progress in meeting the objectives.
This December, Care Through Action is encouraging donations of just $20 to help change a woman's life in the Congo. The funds are managed in order to stretch the value of donations.
The Huffington Post recently featured Care Through action in a recent article entitled "Charities that stretch your dollar most".
$20 will keep a safe house open for a day
$60 pays a counselor's salary for a month
$80 provides 1 woman a 6-month sewing training
$110 gives a micro-loan & teaches her how to manage it
$360 teaches 30 women how to bake & sell bread
The Goal:
Provide equipment and rotating credit funds for small business projects (sewing, bread making, basket-weaving) in 25 safe houses. Provide small business and leadership training in each of the 31 safe houses to help them become self-sustaining within 3-5 years and sustain the current facilities in the eastern Congo
The target of $10,000 won't accomplish all of these goals in their entirety, but it will be a significant and meaningful start. If donations are secured from strong existing following and from new supporters, there is potential to far exceed this fundraising goal. As always, 100% of the funds raised will go directly to CTA's partners in the DRC to build and equip safe house and provide microloans. Visit the website this December and please donate just $20 to help support these efforts in bringing hope to the women of the Congo. Want to make an offline donation? Send a check payable to:
Care Through Action
P.O. Box 695
San Francisco, CA 94104
Care Through Action's Mission
Care Through Action is changing the world's understanding of human rights violations to inspire involvement and action. We build awareness of under-reported issues through the power of images and inspirational stories from the front lines. Finding the dignity and humanity in situations of violence, we spotlight the human capacity for healing and hope; and connect individuals with tangible and powerful ways to create lasting solutions at the local level.
Vision of success
Vision of Success
We envision a global, informed community where the human rights of every individual are protected, connected by images and stories of hope and dignity that nurture the spirit and create empathy for one another.
###