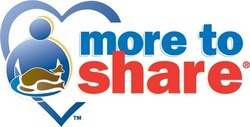 Cargill, like many of our customers and partners, has a long tradition of giving time and resources back to the communities we serve
Wichita, Kan. (Vocus) October 27, 2009
This holiday season, Cargill's More To Share ® program will, through retail grocer partners, help local charity groups address the strain of having enough food to meet the highest level of food support demand since the Great Depression. This year's holiday turkey donation campaign will involve 27 markets from coast to coast and will employ new tools to coordinate program efforts, showcase retail grocer commitment to fighting hunger and spotlight hunger in America.
Through the More To Share program, Cargill collaborates with retail grocer partners in communities across America to donate thousands of Honeysuckle White® (national distribution) and Shady Brook Farms® (Mid-Atlantic and Northeast U.S. distribution) turkeys to food banks, soup kitchens and other hunger-fighting charities as a standalone holiday effort, but more often, supplementing larger, ongoing grocer initiatives to feed the hungry.
"Cargill, like many of our customers and partners, has a long tradition of giving time and resources back to the communities we serve," said Chris Seib, senior marketing manager in Cargill's Value Added Meats business unit. "We're thankful that we can, through our annual More To Share donation program, help our retail grocer partners support their preferred charities and give a little holiday season hunger relief nationally."
The donated turkeys are graciously welcomed by More To Share charity partners who provide them to in-need families or serve them at large, community Thanksgiving dinners. The donation, using Cargill's Honeysuckle White and Shady Brook Farms turkey brands, also fills an important charitable role for retail grocers in their communities. For a map of More To Share communities and a full list of participating 2009 retail grocer and charity partners, visit http://www.MoreToShare.org.
In addition to helping Cargill build a strong charitable partnership with its retail grocer customers to help feed the hungry during the holidays, the More To Share program aims to increase awareness of hunger issues in America.
Social media tools, including Facebook (http://www.facebook.com/pages/More-To-Share/241136860205?ref=ts) Twitter (http://www.twitter.com/moretoshare) and LinkedIn (http://www.linkedin.com/in/moretoshare), have been added to the program's publicity and awareness efforts between Cargill, retail grocer partners and charity groups for the first time this year. Cargill uses the social networks to foster interaction between partners and program supporters as well as communicate key hunger statistics and share news and photos from local donation and dinner events.
The More To Share program, in its 14th year, has partnered with retail grocers to donate more than 72,000 turkeys, including more than 5,500 in 2009, to local charities. The donated turkeys have helped provide holiday meals to hundreds of thousands of people. For more information on the More To Share program, including 2008 program highlights and links to join social networks, go to http://www.MoreToShare.org. For more information on Honeysuckle White turkey, visit HoneysuckleWhite.com, and for more information on Shady Brook Farms turkey, visit ShadyBrookFarms.com.
About Cargill
Cargill is an international producer and marketer of food, agricultural, financial and industrial products and services. Founded in 1865, the privately held company employs 159,000 people in 68 countries. Cargill helps customers succeed through collaboration and innovation, and is committed to applying its global knowledge and experience to help meet economic, environmental and social challenges wherever it does business. For more information, visit cargill.com.
Contact:
Shawn Steward
Associated (for Cargill)
(316) 683-4691 x240
# # #