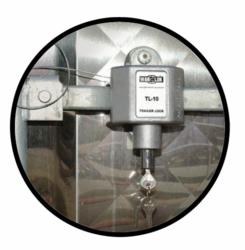 It's surprising how such simple precautions can deliver such effective results.
Dallas, TX (PRWEB) May 16, 2012
Cargo theft is on the rise and thieves are getting riskier. Goods are always more at risk when in transit versus when they are warehoused and guarded by fences, alarms, cameras, and security guards. However, cargo can be protected effectively and rather economically using well-made locks such as those available by WAR-LOK.
CargoNet, a manager of national cargo theft databases, recently released the statistics for 2011. Cargo theft reported in 2011 was 17% higher than theft report the previous year. In addition, New York and Indiana now join the Top 10 list of states with the highest number of reported cargo theft incidents, with California as number one and Texas as number two. According to the report, most theft occurs during the weekend at truck stops.
According to the FBI almost everyone is effected by cargo theft – employees can be hurt during the robbery, retailers do not receive their merchandise, consumers pay more to make up the cost of the theft, and governments lose revenue to investigate the crime. While any product can be stolen, the most common items are electronics, food, metal, pharmaceuticals, and apparel. These items are particularly at risk while the truck is idle.
While high-tech solutions such as GPS tracking and geofencing solutions are possible, a more viable and very effective solution is making sure the cargo is sufficiently locked. "It's surprising how such simple precautions can deliver such effective results," says Dan Marlett of WAR-LOK, a manufacturer of security supply chain solution locks. A king pin lock keeps a thieving tractor from hooking up an untethered trailer. A glad hand lock secures the trailer's air line while an air brake lock prevents the brake from being released. A good set of locks will insure your cargo is safe while only costing you less than $100 per lock. Such locks are reusable and have a long life, only needing to thwart one theft attempt to make its return on investment.
Cargo locks, such as those made by WAR-LOK, are sold in truck stops, Amazon, and through many online distribution channels. Do not endanger a shipment when a simple solution is affordable and readily available.
WAR-LOK is the leading manufacturer of transportation and supply chain security solutions. Based in Dallas, TX, WAR-LOK offers many types of locks with an infinite number of key options – key alike, key different, key to master key, key some to one key and others to another with a master, etc. More information can be found at the WAR-LOK website.