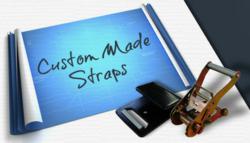 We reach out to the needs of our customers and give them exactly what they need.
Elgin, IL (PRWEB) March 10, 2012
Cargo Equipment Corporation a manufacturer of tie-down assemblies located in Elgin, IL has recently joined forces with Iden Company a long time leader serving the moving and storage industry. The merge will bring two experts in their field together to service the industry as a one stop shop for all their cargo control supplies.
Cargo Equipment Corporation has been manufacturing quality tie downs since 1962. "We specialize in custom tie down assemblies per our customers specifications." comments Jeff Iden President of Cargo Equipment. "We reach out to the needs of our customers and give them exactly what they need. We know the industry and we have been here a long time. Our customers rely on us to give them quality products in a timely fashion, and we do just that. There are a bunch of companies out there supplying inferior products to the industry and a lot of that has to do with how products are bought in from overseas, un-tested and passed along with no regard to quality. Our products are made to our specification and are manufactured with confidence that our customer will receive a quality tested and certified strap assembly. We travel to see our vendors a couple times a year to insure we obtain the highest quality products available. We source webbing here in the states and try to keep as much of the manufacturing in our Elgin, IL manufacturing facility." Along with custom manufacturing, Cargo Equipment Corporation carries a full line of winch straps, ratchet straps, decking beams, cargo bars, lifting slings, tow straps and custom supplies for industry specific markets. The merger between Cargo equipment and Iden company will add a significant product base like furniture pads, dollies, hand trucks, as well as, personal material handling equipment to round out a full compliment of products to supply to the trucking and transportation industry.
The Iden company, which has been supplying the moving and storage industry for over 50 years, and has been in business for well over 100 years has established themselves in the industry as a long running reputable organization. "It's the perfect fit for both organizations," exclaims Jeff Iden "We anticipate a tremendous year adding Iden companies products to our ever growing website. We recently launched our new website in the beginning of 2011. Expanding our business to reach out to the millions of internet shoppers has brought a whole new light to where we see our business going in the years to come. The new business has been great to see in this economy and we only expect it to grow from here."