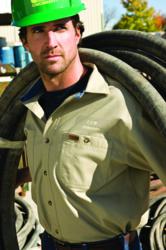 Cincinnati, OH (Vocus/PRWEB) February 15, 2011
Less than two weeks of voting remain before the toughest of the tough are announced as winners of the Are You Carhartt Tough? contest at http://www.CarharttRental.com.
Finalists have received tens of thousands of votes combined, and the top three so far (in no particular order) include: Jonathan Backus, a lineman from Hampton, VA; Steve Nicholson, a firefighter from Quincy, CA; and Bubba Peters, a tow truck driver from Seattle, WA.
Finalists' standings have changed many times during the first two weeks of voting, so there are no guarantees that any of the participants mentioned above will win. All 12 finalists still have a chance, but it will require the support of their communities and industries participating in the voting process.
Cintas Corporation launched the Are You Carhartt Tough? last February and has generated hundreds of nominations. Each of the 12 quarterly finalists will be featured on the contest's web site where the public will be encouraged to vote. Two grand prize winners will be chosen based on public votes.
The contest was created in conjunction with a new partnership between Carhartt, the nation's leading manufacturer of premium work wear for over 120 years, and Cintas Corporation, North America's largest uniform supplier, and the roll-out of the new Carhartt Rental Workwear line, which is available exclusively through Cintas (http://www.cintas.com/carhartt).
"This contest is really a reflection of our companies," says Chuck Helmes, Director of Garment Strategy at Cintas Corporation. "Both Carhartt and Cintas are known for providing tough products and dependable service, and we want to celebrate workers who reflect those same characteristics."
With Ducks Unlimited acting as media sponsor, contest organizers have reached out to the American workforce to identify people who are strong, dependable, resilient and rugged. The two grand prizes include a weekend duck hunt trip designed by Ducks Unlimited or a trip for two to The STIHL TIMBERSPORTS Series in 2011.
The other nine finalists in the running are:

Cori Dixon, a Farm Manager from Kutztown, PA
Tim Zweber, a Dairy Farmer from Elko, MN
Gabe Butler, a Navy Deep Sea Diver from Coranado, CA
John Irish, a Truck Driver and Roofer from West Allis, WI
Elizabeth "EJ" Robertson, a Laborer/Journeyman from Peoria, IL
David Huskins, a Field Technician from Denver, CO
Matthew Clark, a Snowmaker from Boalsburg, PA
Joanna Davis, an Electrician from Centennial, CO
Peter Lindbeck, a Heavy Equipment Operator from Brownsville, WI
More information about these finalists, including their entry essays and high-resolution, downloadable photos, can be found at http://www.cintas.com/customer_applications/CarharttRental/images.asp.
"This is a great way for two well-respected work wear brands to showcase the men and women behind some of the toughest jobs out there," said Steve Carter, Vice President of Corporate Sales for Carhartt. "Our customers work hard and play hard, and these are two fabulous prizes that we look forward to presenting to our top two finalists."
###