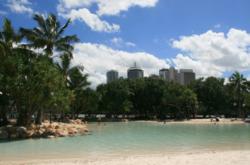 It is important to budget while travelling and that's why the Brisbane Free Attractions Guide was developed
(PRWEB) July 08, 2012
Queensland-bound tourists will now have the opportunity to experience some of the capital city's best free attractions, with the recent release of Discovery Car Hire's, Brisbane Free Attractions Guide.
The all new guidebook was designed for travellers who want to experience the highlights of Brisbane at minimal or no cost, targeted specifically to those travelling on a budget.
Director of Discovery Car Hire, Scott Walton, originally came up with the idea to release a product that would help travellers discover the best things to see and do in in the Sunshine State's capital.
"It is important to budget while travelling and that's why the Brisbane Free Attractions Guide was developed," he said.
"A holiday in Queensland should include a range of fun and entertaining activities and this guide provides a great starting point to discovering what's on offer in Brisbane."
Boasting 40 free locations in and around the city, the Brisbane Free Attractions Guide includes popular places like the Botanical Gardens, Brisbane Powerhouse, City Hall, Kangaroo Point lookout and the Gallery of Modern Art.
Delivering a range of activities for arts and culture enthusiasts, nature lovers and history fanatics, the guide offers something for every kind of traveller.
The brief descriptions that accompany each attraction, aim to entice tourists by informing them of what they can expect to see and do at each attraction.
For the convenience of car hire Brisbane travellers, the guide has been designed to be printable, with location maps and phone numbers accompanying all attractions, allowing travellers to find each one with ease.
The market demand for free and useful travel resources, designed specifically for budget travellers, has encouraged Discovery to create guides that meet this niche target audience.
In addition to the Brisbane Free Attractions Guide, the car hire specialists at Discovery Car Hire will soon launch a range of other exciting free travel guides to encourage visitors to all of Australia's popular cities and destinations.
Travellers can easily find the Brisbane Free Attractions Guide, along with a range of other useful information about Queensland, on the Discovery Car Hire website.
Founded in 2004, Discovery Car Hire is a Brisbane based company that specialise in online comparisons of Australia's top car rental companies.