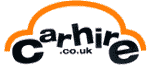 (PRWEB UK) 14 April 2013
Carhire.co.uk advises that one of the largest suppliers on their web site is running a 20% discount scheme for car hire in Holland, Poland, Croatia, UAE or Iceland for reservations to be picked up before the 30th June 2013 but placed today only.
The discount works in the form of a code which when entered will subtract twenty percent from the rental costs. A spokesman for Carhire.co.uk noted how this works: "the discount code is shown within the quote results on our site. When the discount is applicable we show it instead of the vehicle make and model and the website user needs to enter this code after selecting the vehicle to obtain the reduced rate."
The discount is available for rental quotes in Holland, Poland, Croatia, UAE and Iceland on any rentals quotes made today but picking up before the 30th June 2013.
For more information please visit: http://www.carhire.co.uk.
About Carhire.co.uk:
Carhire.co.uk is not just a premium domain name, it's an online car hire and vehicle rental comparison website aimed at the UK traveller which works with some of the best names in the business.