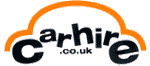 the domain name carhire.co.uk is perfect for those looking to work in the car hire industry, we get a reasonable percentage of users simply entering our site address
(PRWEB UK) 13 October 2012
'We shall be back' announce online car rental experts Carhire.co.uk.
After Googles recent 'Exact match domains' update, one of the webs leading car hire comparison websites: http://www.carhire.co.uk dropped from third to one hundred and thirty seventh in the rankings for the keywords 'car hire'.
The company is not disheartened however and has declared it won't be long before they are back on the front page of the search engine giants system.
A spokesmen for the company commented "the site dropped suddenly from being right up in the top five spaces for the keyword car hire to the thirteenth page. We are always looking at ways to improve the site and this will only spur us on, added to this we are looking into the social networking side of the web as a means of building a bigger and more useful brand."
They continued: "the domain name Carhire.co.uk is perfect for those looking to work in the car hire industry, we get a reasonable percentage of users simply entering our site address taking out the search engines. Most of these are looking for car hire and believe by entering Carhire.co.uk into their web browser they are going to find the perfect solution to their needs."
Carhire.co.uk is an online rental comparison site offering both worldwide rentals and UK car hire.