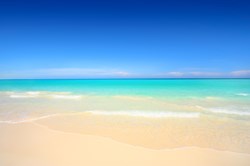 The Turks and Caicos Islands were voted the World's Leading Beach Destination 2012 at the 19th World Travel Awards
Providenciales, Turks and Caicos Islands (PRWEB) December 10, 2013
CARIBIQUE Villa Rentals' Top 10 Guide to Christmas in the Caribbean is an annual insight into Caribbean destinations perfect for escaping the chill in the northern hemisphere and celebrating Christmas in the warmth of the Caribbean sun. This year their top ten "Caribbean Christmas" travel picks are the Turks and Caicos Islands, Saint Martin, Jamaica, US Virgin Islands (USVI), British Virgin Islands (BVI), Anguilla, Dominican Republic, Antigua, St. Barts, and Saint Lucia.
"The Turks and Caicos Islands were voted the World's Leading Beach Destination 2012 at the 19th World Travel Awards. The stunning beaches, great water sports and an abundance of superb restaurants make it a perfect Caribbean Christmas destination" said Carl McBurnie, owner of CARIBIQUE. "Although we do still have some very late availability and special offers for Saint Martin villa rentals, if you want to spend Christmas in a Caribbean villa the most important thing to do is book very, very early."
Visit the CARIBIQUE Villa Rentals website for full details of their Top 10 Guide to Christmas in the Caribbean.
About CARIBIQUE
CARIBIQUE Villa Rentals is owned and operated by CARIBIQUE Ltd., a company in the "Beautiful by Nature" Turks and Caicos Islands. Their user-friendly website offers more than 180 Caribbean villas in 18 Caribbean destinations. For more information about listing a villa on the website or booking a Caribbean vacation, contact Carl McBurnie or visit http://www.caribiquevillarentals.com/
We're not just unique, we're CARIBIQUE!