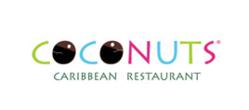 Palo Alto, CA (PRWEB) September 22, 2011
Customers will feel like they're in the Caribbean while relaxing with one of the restaurant's award-winning cocktails in hand and enjoying the atmosphere of this very laid-back restaurant. Palo Alto's Coconut Caribbean Restaurant is now offering happy hour and has a variety of cocktails to choose from, and the Bob Marley Shot comes highly recommended from the restaurant's staff. It not only tastes great, but it's amazing to look at too.
Happy hour runs from 5:30 p.m. to 6:30 p.m. Tuesdays through Saturdays. Live steel drum music is provided on the last Friday of the month for guests to enjoy.
Coconuts Caribbean Restaurant brings the Caribbean to Palo Alto, offering courteous and professional service as well as authentic food and tasty cocktails. Its family-style menu allows diners to enjoy all the flavors Coconuts has to offer, including savory dishes such as spinach ackee rolls, an ital pairing of Jamaica's national dish: seasoned spinach and siken tofu with coconut dipping sauce, as well as delicious sides such as macaroni and cheese, sweet potato fries, fried plantains and more. Customers will not be disappointed no matter what day they visit with the always delicious soup of the day.
Coconuts Caribbean Restaurant is located at 642 Ramona St. in Palo Alto. For more information, call 650-353-2897 or visit http://www.coconutspaloalto.com.
About Coconuts Caribbean Restaurant
Chef Robert Simpson began his cooking career in Jamaica. His zest for learning as well as for cooking has taken him to many corners of the world, where he gained experience in the culture and cuisine of the people. This helped in developing his talent and passion for creative cooking with distinguished flavors. Using only the finest and freshest ingredients, Chef Robert presents Caribbean cuisines with distinction and flair.
###