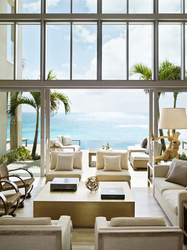 Anguilla (PRWEB) September 8, 2009
Viceroy Hotels and Resorts proudly announces its first international arrival with the opening of Viceroy Anguilla in November 2009. Acclaimed designer Kelly Wearstler's inimitable style and talent for sumptuous elegance will be on display as the much-anticipated resort debuts this November.
Situated on 35 lush acres, with 3,200 feet of exclusive Caribbean beachfront land along Barnes and Meads Bays, Viceroy Anguilla's offering features 166 contemporary beachfront and blufftop villas, sophisticated townhomes and opulent resort residences. This Anguilla hotel has an unmistakable sense of place where guests will revel in utter privacy yet enjoy unlimited access to the resort's myriad pleasures.
Guests can look forward to an eclectic array of dining experiences at Viceroy Anguilla. The resort's signature restaurant Cobà focuses on local bounty of the Caribbean and the Atlantic Ocean accentuated by Pan-Asian flavors. The ideal restaurant for an elevated Caribbean dining experience, Cobà has 180 seats, with exquisite views of Barnes Bay and Meads Bay and seating both indoors and out. The chic Sunset Lounge is the setting for cocktails, aged rum and Cuban cigars, all best imbibed with tapas and other fare to Reggae and Calypso rhythms around an infinity pool. Carved out of the cliff side on Barnes Bay, Half Shell is a hip and intimate enclave serving colorful frozen cocktails and cold beer on tap. An array of fresh fare will help guests keep cool, including Bento boxes of sandwiches, ceviches and fresh sushi available for on-the-go beach food.
Poised at the water's edge, the 8,000-square-foot spa offers curated collections of wellness rituals that cultivate body and soul alignment, including massages, body polishes, wraps, facials, mani-pedicures and a diverse array of specialized excursions, classes and experiences. The fitness center will feature a handsome complement of sophisticated Technogym and Star Trac bikes.
The Aquatic Center offers a wide range of non-motorized water sports - including sailing, windsurfing and snorkeling. "Generation V" kids club is inspired by the concept of "families that play together, stay together" and offers meaningful family experiences that respect the environment.
Come celebrate the grand opening of Viceroy Anguilla with the Remember to Live - Memento Vivere package. Receive Continental Breakfast for two each morning, a daily $100 resort credit, a chilled bottle of champagne and savory Tapas waiting in your suite to welcome you to our resort. To book, visit the Viceroy Anguilla Resort site or call (866) 270-7798.
The official site for the Viceroy brand is http://www.viceroyhotelsandresorts.com.
# # #