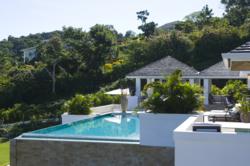 We at Tryall Club are thrilled and honored to be awarded the AAA Four Diamond rating
Montego Bay, Jamaica (PRWEB) April 26, 2011
Tryall Club, a luxury Caribbean villa resort, is proud to announce that it has been awarded the prestigious AAA Four Diamond Rating. Only four percent of more than 31,000 properties approved by AAA achieve this coveted distinction, ranking Tryall Club among North America's finest travel destinations.
"We at Tryall Club are thrilled and honored to be awarded the AAA Four Diamond rating," says managing director Gerry Giarla. "We take great pride in consistently exceeding the expectations of members and guests. This award reflects all the hard work our staff puts in every day to make Tryall Club a truly exceptional resort experience."
AAA's Diamond Rating System, the only ratings system that covers all of North America, is renowned for its rigorous on-site evaluations. Each year, AAA's field representatives conduct unannounced visits to evaluate accommodations throughout North America. The Four Diamond rating is reserved for properties that are truly exceptional in all areas of service. Four Diamond accommodations must be refined and stylish and reflect a meticulous attention to detail and quality. All Four Diamond properties must feature an extensive array of amenities, and offer world-class food, hospitality and service.
Tryall Club is one of the most exclusive gated villa resorts in the world. Nestled on the lush shores of the Caribbean Sea twelve miles west of Montego Bay, Jamaica, the Club offers stunning views in all directions. The former sugar plantation consists of 2,200 acres of land, fronting one and a half miles of jade blue sea. The Club features an extraordinary diversity of animal and plant life, including trees bearing almonds, coconuts, breadfruit, lime, and papaya. The Flint River, fed by springs from the mountains, meanders through the plantation for four miles.
A majestic Great House and the Club's extraordinary villas offer old world charm coupled with modern luxury and convenience. The Club features 85 sumptuous private villas, each uniquely designed and equipped with its own personal chef and private swimming pool. Guest quarters overlook the jewel-like fairways of Tryall Club's 18-hole championship golf course. Tryall's private beach is a quarter-mile swath of pristine white sand and shimmering water.
The Club offers a comprehensive tennis program, a wide variety of water sports including scuba diving, snorkeling, sailing, kayaking, and more. A short swim from the beach is a coral reef, a virtual private underwater preserve for Club snorkelers. Tryall employs a full time marine biologist who conducts informative tours of the grounds and maintains a year-round Wildlife & Nature Program. The Hummingbird's Kids Club offers daily activities for kids from the ages of 5 to 12, including treasure hunts, talent shows, face-painting, beach Olympics and more.
Tryall Club is the Caribbean's premiere luxury resort, located on the lush northern coast of Jamaica, 12 miles west of Montego Bay. The Club features 85 sumptuous private villas, (one to eight bedrooms) each uniquely designed and equipped with its own personal chef and private swimming pool. Set among 2,200 rolling acres that formerly housed a vast sugar cane plantation, the Tryall Club has been designated a National Heritage Foundation site. The Club is a favorite stop for successful business people as well as families and offers a relaxing and unforgettable tropical getaway. It's also perfect for destination weddings, group meetings, and family reunions.
The Tryrall Club first opened as a private resort in 1957 with an 18-hole, 6221-yard golf course designed by Ralph Plummer. In recent years, a series of imaginatively designed villas and impressive showcase homes have been added, establishing the Club as one of the Caribbean's truly elite villa vacation estates.
The Tryall Club resort has been awarded the prestigious AAA Four Diamond Rating. Only four percent of more than 31,000 properties approved by AAA achieve this coveted distinction. The Tryall Club was chosen by Conde Nast for inclusion on its Gold List of "Best places to stay in the whole world."
For more information on the finest villa experience in the Caribbean, contact The Tryall Club, P.O. Box 1206, Montego Bay, 800-238-5290, or visit http://www.tryallclub.com
###