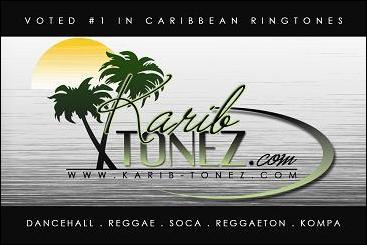 The Caribbean and Hispanic communities are trendsetters and leaders in the world of music, fashion, and popular culture
Lauderhill, FL (PRWEB) March 7, 2007
Karib-Tonez.com is tapping into the niche market of the Caribbean by offering the ever growing fan base of Dancehall, Reggaeton, Kompa and Soca their favorite songs in the form of new ringtones for mobile phones.
"The Caribbean and Hispanic communities are trendsetters and leaders in the world of music, fashion, and popular culture," says Jean-Marc Simeon of Karib-Tonez.com. "Karib Tonez.com aims to be an online networking hub for party promotions of Caribbean entertainment and at the same time provide a social lifestyle forum to reach an untapped and virtually overlooked demographic in the online marketplace."
By using the medium of the internet, the Karib-Tonez.com website gives mobile phone users access to a wide variety of new ringtones from the Caribbean. According to Karib-Tonez.com creators, currently, nothing like this is available at other ringtone sites. Geared toward the Jamaican, Haitian, Hispanic and Trinidadian demographics, this customer base has proven to be eager for any available online content. Karib-Tonez.com aims to supply that content.
In addition, the KTZ Lyfestylz is an online community where Caribbean internet users can interact and connect at local events geared toward their interests. The Karib Konnection is the message board where the voice of the Caribbean can be heard. With a mobile messaging system, party promoters will be able to send text messages directly to site members to promote any event. This communication allows users to stay in touch with the type of entertainment lifestyle that drives their interest no matter where they are.
KaribTonez.com will be starting a major marketing campaign in March in the South Florida area that will run through the Memorial Day weekend. More details to come. The voice of the Caribbean campaign plans to move to the Atlanta, New York and California regions by the end of summer, 2007.
Contact:
Jean-Marc Simeon
CEO DueceOne Enterprises Inc.
954-817-7465
###