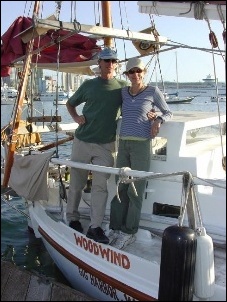 Not only is this an escape from the complications and stresses of everyday life, but sailing to the Caribbean also gives us a true appreciation for the beauty of nature, and each other.
ORLANDO, Fla. (PRWEB) March 8, 2007
"Jan and I love sailing and the Caribbean," said Smith. "Nothing beats the people, the clear blue water, the trade winds, the palm trees and the food and music of the Caribbean, not to mention the great sailing there. We're living the dream so many people have, to chuck it all and sail half-way around the world to the Caribbean. And we've simplified our lives so we can focus on the sailing experience, rather than get bogged down by schedules and details."
In addition to taking care of numerous sailing related chores, the couple also keeps busy aboard Woodwind during the seven-month Caribbean sailing voyage by reading, painting, cooking, fishing and writing their sailing blog. Sometimes it's the simplest things, though -- a piece of driftwood or a perfect sunset on the horizon -- that provide entertainment while sailing on the open sea.
Since meeting in St. Barthelemy in the French West Indies more than 25 years ago, the Smiths have enjoyed sailing more than 50,000 miles together. From 1988 to 1995, the couple spent most of those seven years aboard Woodwind, sailing through the Caribbean with their then infant son, Kess, before settling down to a land-based life in Gig Harbor. "The islands of the Eastern Caribbean have been our second home, off and on for 30 years," Bruce Smith said. This sailing voyage is different as they're now able to keep everyone entertained and informed through their sailing blog. They blog a few times a week reporting on their different sailing adventures.
A man of many trades, including boat-building and sail repair, Smith earns a living as a professional artist. His colorful signature artwork captures the simplicity and beauty of Caribbean life and sailing, and can be found in galleries, hotels and restaurants in the Caribbean from Anguilla to Grenada, as well as in all 32 Bahama Breeze restaurants in the United States. Jan Smith is a writer and elementary school teacher; in fact, she left a reading list and curriculum materials with her school back home -- Minter Creek Elementary in Gig Harbor -- so the students there can follow and learn from the Smiths' sailing travels.
Long before he developed a love for sailing, Bruce first escaped to the Caribbean from his native Connecticut in the 1970s, drawn to the laid-back lifestyle. While living there, he learned to build boats from a West Indian shipwright and earned a living as a boat-builder and sign painter in the Windward Islands. This allowed him to spend his free time doing what he loved most -- sailing and painting.
Though painting signs in the Caribbean paid the bills and helped him develop a sense of color, balance and composition, Smith said it didn't satisfy his artistic passion. So he started painting murals of island scenes in local rum shops and bars, developing a love for what is now his trademark medium -- alkyd enamel paint, a substance similar to Rustoleum that's used by sign painters. It gives his work its distinctively bold color and depth and makes his paintings truly representative of Caribbean life and culture.
After six years sailing the Caribbean as a painter, Smith returned to the States and made a home with Jan in Washington. Almost immediately, inspired by his time sailing in the islands and using the boat-building skills he learned there, he began building Woodwind out of slow-growth timber salvaged from the Mt. St. Helens volcanic explosion in 1980.
It hasn't been all smooth sailing during the Smiths' current Caribbean sailing voyage to the islands -- including a brush with Hurricane Sergio in the Pacific, some rough seas and squalls and the sudden death of Jan's father that forced them to briefly stop sailing and anchor off the cost of Costa Rica so Jan could fly back to Seattle to be with her family. And their story now includes the recent emotional rescue of Haitian migrants off the coast of the Dominican Republic, which made them the focus on an international news story about their heroic actions. For the most part, though, they said the simple life sailing aboard Woodwind is a dream come true and an opportunity for them to tell the world about their adventures via their sailing blog. And Bruce sees every minute as inspiration for his Caribbean work.
"Sure, we've encountered obstacles along the way, but these sailing experiences enrich our lives," Smith said. "Not only is this an escape from the complications and stresses of everyday life, but sailing to the Caribbean also gives us a true appreciation for the beauty of nature, and each other."
To view or purchase Bruce Smith's Caribbean artwork, visit his virtual art gallery at bahamabreeze.com or brucesmithsvoyage.com. Also, Bruce and Jane regularly update their sailing blog, tracking their Caribbean sailing voyage.
About Bahama Breeze
With 32 locations nationwide, Bahama Breeze invites you to Feed Your Island Spirit(R) with the food, drink and vibrant atmosphere you'd find in the Caribbean islands. The restaurant is known for fresh, delicious seafood, distinctive chicken dishes and flame-grilled steaks, accompanied by refreshing, hand-crafted tropical drinks. Popular menu items include Breeze Wood Grilled Chicken Breast, Coconut Shrimp, Lobster and Shrimp Pasta and a daily fresh fish sheet offering guests a choice of several fresh fish species, preparations and side items. Most Bahama Breeze locations are open for lunch and dinner daily, from 11 a.m. until late, and all offer call-ahead seating. For more information, visit bahamabreeze.com.
Optimized by Newsforce