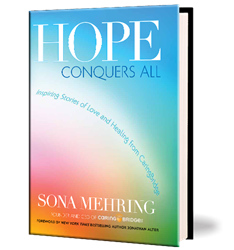 Eagan, MN (PRWEB) July 31, 2013
WHAT:
How did the legacy of one baby inspire hope for millions? Sona Mehring, founder of CaringBridge, reveals in her new book, Hope Conquers All, how a premature newborn who experienced life for only a few days has impacted the lives of millions of people who depend on CaringBridge as a lifeline of hope.
To date, nearly two billion visits have been logged to personalized sites enabled by CaringBridge's unique technology. But, it's the personal stories of encouragement that are the hallmark of what is considered one of the first online social networking sites.
The book signing will feature Mehring who will share directly about her inspirational and motivational experiences behind founding CaringBridge.
WHEN/WHERE:
Monday, August 12, 7:00 p.m.
Book Passage
51 Tamal Vista Blvd., Corte Madera, CA 94925
About CaringBridge:
CaringBridge is a nonprofit offering many ways for people to care for each other during any type of health event. Its mission is to amplify the love, hope and compassion in the world, making each health journey easier. For more information, visit http://www.caringbridge.org.