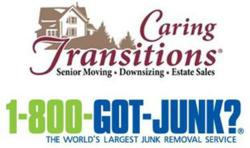 To be aligned with us, a company must demonstrate it operates with the utmost care, sensitivity and understanding.
Vancouver, Canada/Cincinnati, Ohio (Vocus/PRWEB) April 13, 2011
Drawing upon years of customer service and empathy training, 1-800-GOT-JUNK? signs up with Caring Transitions to support seniors with their junk removal needs. The relocation specialists at Caring Transitions assist seniors struggling with life transitions, including moving and selling personal property. They need reliable support to help their clients efficiently and responsibly dispose of unwanted items.
"To be aligned with us, a company must demonstrate that it operates with care, sensitivity and understanding," said John F. Buckles, President of Caring Transitions. "After a careful selection process, we have chosen 1-800-GOT-JUNK? as our premiere partner and principal service provider in the removal of unwanted items from our clients' properties."
A world leader in the junk removal business, 1-800-GOT-JUNK? encourages empathy training for franchise partners looking to edge out the competition. The company's quality focus areas for professional service include: clean, shiny trucks; friendly, uniformed drivers; on-time service; and up-front rates. These coupled with a plan to train crews to be compassionate with customers, provide the key to successfully securing the trust, and increasing the comfort level, of an aging baby boomer population.
1-800-GOT-JUNK? Founder and CEO Brian Scudamore said he is pleased to work with Caring Transitions. "Twenty years ago, we set out to make the ordinary business of junk removal extraordinary, and I believe we did that. This alliance just elevates that to the next level by showcasing the compassion and care we have for our customers."
The alliance between the two companies is a lead-sharing arrangement designed to provide Caring Transitions clients with a full service. It launches April 13 at the Caring Transitions annual conference.
About 1-800-GOT-JUNK?
1-800-GOT-JUNK? is pioneering an industry that is helping residents and businesses remove junk and regain space. Whether it's a pile of household junk in the garage or a warehouse full of office furnishings, 1-800-GOT-JUNK? removes it for you, making the ordinary business of junk removal exceptional. We are passionate about recycling and donating to charity. 1-800-GOT-JUNK? was founded in 1989 and now operates throughout North America and Australia. http://www.1800gotjunk.com.
About Caring Transitions
Caring Transitions, founded in 2006, is the first national franchising concept specializing in Senior Relocation and Transition Services. With locations throughout North America, Caring Transitions provides clients with expert advice plus a well-executed transition plan beginning with the initial sorting of personal belongings through packing, shipping and selling of items to the final clearing and cleaning of the property. http://www.caringtransitions.net
###