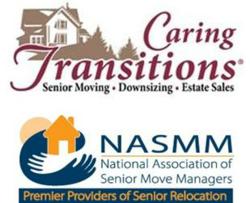 "Caring Transitions shares NASMM's commitment to providing person-centered, move-management services, and we are pleased to work more closely with this expanding organization."
Hinsdale, IL and Cincinnati, OH (Vocus/PRWEB) April 13, 2011
The National Association of Senior Move Managers™ has added relocation experts Caring Transitions to its membership. NASMM is the only professional association in North America devoted to helping the rapidly increasing 55+ population with middle- and later-life transition issues. Caring Transitions is a national franchise specializing in assisting clients of all ages, especially seniors, through all the steps necessary during a life transition, including relocation and liquidation of personal property.
"We focus on the whole person by addressing not only the physical aspects, but also the emotional aspects of a move," said John F. Buckles, president of Caring Transitions. "Because many of our clients have spent their lives collecting items they value dearly, we understand the need for compassion, professionalism and expertise in helping them make significant decisions and changes in their lives."
Jennifer Pickett, associate executive director for NASMM, noted that while the senior move management profession is relatively new, the challenge of transitioning is not.
"Caring Transitions shares NASMM's commitment to providing person-centered, move-management services," she said, "and we are pleased to work more closely with this expanding organization."
About NASMM
The National Association of Senior Move Managers™ was founded in 2002 as a not-for-profit association dedicated to assisting older adults and families with the physical and emotional demands of downsizing, relocating or modifying their homes. Now hosting a national network of more than 600 senior move management companies, NASMM remains committed to maximizing the dignity and autonomy of all older adults. http://NASMM.org.
About Caring Transitions
Caring Transitions®, founded in 2006, is the first national franchising concept specializing in Senior Relocation and Transition Services. With locations throughout North America, Caring Transitions provides clients with expert advice plus a well-executed transition plan beginning with the initial sorting of personal belongings through packing, shipping and selling of items to the final clearing and cleaning of the property. http://www.CaringTransitions.net.
###