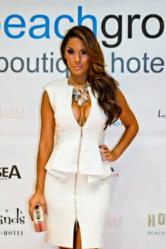 I would like to see my perfume in retail stores across the country and these launches give me the opportunity to create the buzz to make that happen! - Carissa Rosario
New York, NY (PRWEB) August 01, 2012
The worlds of fashion and design aligned perfectly during the 2012 Mercedes-Benz Fashion Week Swim in Miami. Widely known for its vivacious nightlife, beautiful people, and tropical atmosphere, South Beach provided the perfect backdrop for the soft launch of international model Carissa Rosario's "Young and Fresh" by Christopher Joseph perfume launch.
Starting off the evening was Florida's very own Super Bowl Champion Antrel Rolle of the New York Giants who served as host and welcomed guest who arrived at the Hotel Catalina's Red Bar. Fashion and entertainment industry leaders sampled magnificent cocktails at a reception sponsored by Bartenura Moscato. Music for the evening was provided by Power 96's DJ B*Ryte who kept attendees reveling and rocking to the hottest tracks throughout the night.
For the ladies there was a complimentary sample of Carissa's "Young and Fresh" fragrance. The scent, a truly unique blend of soft grapefruit and floral scents, captivated attendees with its refreshing, alluring and seductive aroma. "I would love to see my perfume in stores all across the country and these launches give me the opportunity to create the buzz to make that happen," stated Carissa.
The 2012 Mercedes-Benz Fashion Week Swim was not to be missed, and goes to show that great fashion, coupled with an energized crowd and amazing brands never goes out of style.
The next "Young and Fresh" perfume launch will take place in Los Angeles in early fall, followed by the Las Vegas launch. For more information on Carissa, or where you can purchase "Young and Fresh", please visit Carissa's website at http://www.carissarosario.com.
ABOUT CARISSA ROSARIO
Carissa Rosario is determined to make a difference! An international model, actress, spokes-model for Monster Energy, businesswoman, nutritionist, and philanthropist, Carissa is clearly one of the hardest working models in the industry. Currently ranked #1 on Google as the most searched professional Maxim model in the world, the brunette beauty has graced the cover of more than fifteen international and national magazines.
ABOUT "YOUNG AND FRESH" LIMITED EDITION PERFUME®
"Young and Fresh" Limited Edition Perfume®, 1.7 FL OZ / 50 ML-EAU DE PARFUM (EDP) spray for women brings a captivating scent that's simply irresistible. The soft, sensual and refreshingly innocent floral fragrance captures a delicate grapefruit scented zest, fresh rose and provocative musk.
To see more on Carissa Rosario's perfume lauch and her buzz during Mercedes-Benz Fashion Week Swim visit:
http://www.soflanights.com/?page_id=1453&album=1&gallery=208
http://www.gettyimages.com/Search/Search.aspx?contractUrl=2&assetType=image&family=Editorial&p=carissa+rosario+miami+swim+week
http://www.daylife.com/photo/0d3a9oq717e9L?__site=daylife&q=Miami%2C+FL
http://www.zimbio.com/Carissa+Rosario/pictures/pro/2012
For more information on Carissa visit her website at http://www.carissarosario.com. To schedule an interview or learn more about Carrisa, please contact Nikkia McClain by phone at 646.244.2140, or by e-email at nikkia(at)tenenicole(dot)com.