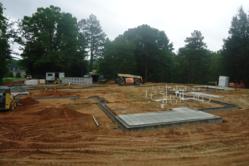 (PRWEB) May 28, 2012
Residential life is an important component to any boarding school environment. As part of the on-going capital improvement and development of Carlbrook School, allocating funds to provide safe, comfortable living facilities for male students on campus was determined to be a priority by the Board of Regents. As such, a 10,000 square foot dormitory is being constructed that will house 88 male students.
The facility itself will be situated across campus from the academic village, providing easy walking access to the main commons building and dining hall. In addition to the sleeping quarters, there will be several common areas that will serve as additional space for academic studying, community meetings and camaraderie. An exercise room will also be available to students whenever the dormitory is accessible.
The Carlbrook School Board of Regents looks forward to unveiling the completed project in December 2012.