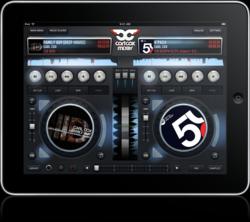 Carl Cox is the ultimate DJ, people would kill to have him spin at their party. The Carl Cox Mixer App basically lets anybody with an iPad, iPhone, or iPod Touch have Carl Cox dj at their house. Says Aviv Eyal, Musicsoft Arts founder
New York, NY (PRWEB) July 09, 2011
Ever dreamed of having Carl Cox spin at your party? A new mobile music app brings Carl Cox's DJ skills to virtually any party, anywhere in the world, anytime.
The Carl Cox Mixer app, available for iPhone, iPad and iPod Touch, also includes the first new track from Carl Cox in six years – "Family Guy," straight from Carl's upcoming album "All Roads Lead To The Dancefloor."
The exclusive 'Family Guy' download is classic Carl territory – a slice of icy-cool techno and deep house, already a fan favourite after Carl added an early version to his website last year. "It was inspired by certain key changes in the Family Guy show's theme tune," explains Carl. "Ever since I put it online, I've had so much feedback and so many requests for it to be released. It had to be the first single, and what better way to launch the app!"
The mixer app is a collaboration between Carl Cox and Musicsoft Arts, creators of DJ Mixer, the top selling music mixing application on the iPhone and on the iPad. Launched on June 17th, the new party app is packed with hot new music hand-picked by Carl Cox and played back in an automated DJ set from Carl himself (well, his digital clone).
Users can also take over and mix the tracks themselves with two CDJ decks and an all-powerful mixing station at their fingertips. Carl's DJ booth comes complete with two CDJ decks, music mixer, an array of mix effects and features, and direct access the Intec Digital catalogue.
The App is offered as a free download on Apple's App Store that comes with 3 new tracks from Intec Digital, including two exclusive new tracks – "Family Guy", the brand new single from Carl Cox's upcoming new album, and "Twisted Machine", an unreleased collaboration from Carl Cox and Jon Rundell. Additional tracks from Intec Digital can be purchased and downloaded directly onto the App for a complete Carl Cox interactive DJ set. Other tracks available include hot dance floor bangers from Robert Babicz, Jon Rundell, Nicole Moudaber, Yousef, and more.
"Carl Cox is the ultimate DJ, people would kill to have him spin at their party. The Carl Cox Mixer App basically lets anybody with an iPad, iPhone, or iPod Touch have Carl Cox dj at their house," says Aviv Eyal who founded mobile music app wizards Musicsoft Arts.
More DJ features include looping, sound effects, real-time time stretching for tempo change without affecting song's pitch, low-latency headphone monitoring, pitch change – everything DJs need to rock a party. Users can also record their DJ sets simply by touching a Record button. Start practicing for the inevitable DJ contest to go to Ibiza!
Another feature, Music Video Party, turns the app into a visual party – videos to the music on app can be viewed on the device or on a big screen connected to the device.
This summer, with the Carl Cox Mixer App, the world famous Carl Cox parties are no longer exclusive to the lucky few that make it to Ibiza's club Space.
To download app and the new "Family Guy" single, please click here
Carl Cox Mixer App videos – http://youtu.be/XzeFrlrYMmk | http://youtu.be/rQJX83RCeRc
Carl Cox Mixer App features (included in free app unless otherwise noted):

Interactive two-channel mixing with virtual CDJs or turntables
3 free track (song) downloads
Additional Carl Cox and Intec Digital tracks and remixes (paid)
Carl Cox Sound Effects (free and paid)
Loop song parts
Beat and tempo analysis
Time stretching
Auto mixing
Simple and advanced mix modes
Headphone Cueing (paid feature, also requires a second iDevice and WiFi connection)
Smart playlists
User assignable cue point on each deck
Music Videos Party (free and paid)
Wi Fi Party – interact with the DJ in a party (free and paid, requires Wi Fi connection)
App Track Listing:
Family Guy
Carl Cox
Exclusive release from Carl's new album All Roads Lead to The Dancefloor
Twisted Machine – Carl Cox & Jon Rundell
Unreleased exclusive
Tackle Face – Adam Sheridan and Mark Maitland
Remixed by Cristian Varela, Nicole Moudaber & Lucca
Coppa – Carlo Lio
Title : False Information / Coppa
Damager – Jon Rundell
Remixed by Carl Cox
Marakech – Marco Bailey & Tom Hades
The Reason Why – Nicole Moudaber
1000 Pictures – Yousef
We Can Do This All Night – Jim Rivers
L'Amour Tropique – Nicole Moudaber
Fire Fight – Umek
Hard Softness – Tommy DeClerque
Over The Fence – Jon Rundell
K'Pasa – Carl Cox
About Musicsoft Arts
Musicsoft Arts is a New York City based company that is fully dedicated to building great mobile music Apps. In the last 18 months Musicsoft Art has established itself as a leader in the rapidly growing mobile music Apps market with multiple music Apps in the top music iTunes App Store charts, and over 7.5 million Apps installs by worldwide mobile music fans.
###