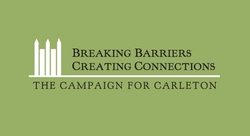 This campaign will not only benefit Carleton students today but future generations of Carleton students as well. It's an astonishing accomplishment during one of the most challenging economic times in our nation's history.
Northfield, Minn. (Vocus) July 2, 2010
Carleton College has announced the successful completion of its largest-ever fundraising campaign. Breaking Barriers, Creating Connections: The Campaign for Carleton has exceeded its goal, raising more than $300 million from alumni, parents, friends, corporations and foundations. One-third of all campaign dollars were given by members of the Carleton Board of Trustees and 76 percent of all alumni contributed to the campaign.
"This campaign will not only benefit Carleton students today but future generations of Carleton students as well," said Barbara and Wallace Weitz, 1970 graduates of the College, co-chairs of the campaign, and three-time Carleton parents. "It's an astonishing accomplishment during one of the most challenging economic times in our nation's history." The Weitz Family has given $25 million in support of the Campaign, representing the College's largest gift.
Carleton began the campaign in 2004 with an ambitious goal of raising $300 million by June 30, 2010. As of today, the College has received a total of $300,383,642 in gifts and pledges from 23,148 donors toward three strategic initiatives: enriching the teaching and learning environment by creating better ways for students to learn broadly and deeply; broadening access for students from increasingly diverse backgrounds; and enhancing the College's physical facilities in ways that effectively support a leading liberal arts college in the 21st century.
"Carleton has a long tradition of strong alumni support," said vice president for external relations Kristine Cecil, Carleton Class of 1984, "but, what was truly needed in this campaign was to raise awareness about the need for seven- and eight-figure gifts." To that end, she noted, the Weitz family gift of $25 million was secured based upon a challenge to the full Board of Trustees, resulting in overall Trustee gifts of $100 million, or one-third of the campaign total. This campaign accomplished both broad-based donor participation, as well as gifts of large magnitude, including 26 gifts of $2 million or more, she reported.
Campaign initiatives have manifested themselves in visible ways on the Carleton campus, most notably with the opening of two new residence halls, Cassat and Memorial Halls, in September 2009. In June 2010, construction began on Carleton's new Arts Union facility, located on the site of the former Northfield Middle School on the southern edge of campus. The building, slated for completion in time for the 2011-12 school year, will include new spaces for cinema and media studies, theater and dance and technologically-advanced, multidisciplinary classrooms.
The $300 million goal also included support for teaching and learning initiatives, including the hiring of 15 new faculty members, enhancing faculty development funds, and enriching student research opportunities.
The 15 new full-time, tenure-track faculty positions enabled the College to add new majors in cinema and media studies and environmental studies, along with enhanced academic offerings in Arabic and linguistics. Additionally, the campaign has helped fund new curricular initiatives in academic civic engagement that integrate service with classroom learning and research, a new director of the arts position, enhanced programming in the career center, and additional funding for winter term off-campus study abroad programs. The money raised also supports the Headley House program, which brings world leaders and thinkers to campus to engage with students and faculty members in collegial, in-depth discussions of topical issues.
Another campaign priority is support of financial aid, for both international students and students from the United States. The College's financial aid budget has increased during the campaign period from $19.6 million in 2004-05 to $28.2 million in 2009-10. The campaign funding will support Carleton Access Scholarships, a loan-reduction program for Carleton's neediest families.
An additional $45 million was raised through the College's Alumni Annual Fund to support annual operations and provide the essential resources to move ahead with some of Carleton's ambitious plans, even as capital and endowment funds were being raised, and includes 45 new endowed scholarship funds.
Many of the these enhancements are the result of unrestricted giving, said Jack Eugster, chair of the Carleton Board of Trustees and retired chairman and CEO of Musicland Stores Corporation. "Unrestricted gifts allow the College's leadership to direct the funds to where they are most needed," he said. "All gifts made to the campaign reflect a sense of faith in Carleton's mission.
"I'm extremely proud of the College, and particularly the fundraising staff who worked so hard on planning and executing this campaign," added Eugster, a member of the Carleton Class of 1967 and also the parent of a Carleton graduate.
The Breaking Barriers, Creating Connections campaign is one of the largest undertaken by a Minnesota private college and one of the largest ever undertaken by a national liberal arts college.
"The success of this campaign is a testament to the exceptional leadership of our Board of Trustees, our volunteers, our staff and all our donors who strived to make it happen," said Robert A. Oden Jr., Carleton's recently retired president. "Carleton is an extraordinary community made up of extraordinary people."
Ranked among the nation's top liberal arts institutions, Carleton is a private, co-educational college of 1,900 students located 40 miles south of Minneapolis and St. Paul. High academic standards, an excellent teaching faculty, and a diverse student body contribute to Carleton's outstanding reputation.
Contact: Eric Sieger, Director of Media & Public Relations
(507) 222-4183
###