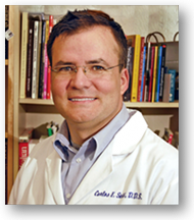 Los Angeles, CA (PRWEB) June 26, 2013
Dr. Carlos Setti, Los Angeles dentist, is pleased to now offer complimentary teeth whitening. When a new patient receives a dental examination, a teeth cleaning, and x-rays, they will receive a custom at-home teeth whitening system. These systems can whiten the teeth several shades in a short amount of time. The at-home whitening system is a $375 value, and it has been proven to whiten teeth up to eight shades without increasing tooth sensitivity.
In addition to the complimentary at-home systems, Dr. Setti also offers other teeth whitening options in his Los Angeles office. He offers both Zoom Advanced Power Plus and state-of-the-art Lumibrite Chairside whitening for patients who prefer to have their teeth whitened in just one office visit. The Zoom & Lumibrite systems whitens teeth up to eight shades without increasing sensitivity, but in one office visit rather than over time with repeated treatments at home. This option is ideal for patients on the go who want instant results without multiple treatments.
Dr. Setti, Los Angeles cosmetic dentist, offers his patients a variety of cosmetic and general dental treatments. Among the many cosmetic dental treatments he provides are veneers, Lumineers, Invisalign aligners, all porcelain crowns and bridges, tooth-colored, metal-free fillings and bondings, gum contouring, dental implant restorations, smile makeovers, and laser teeth bleaching. In addition to these services, he offers general dental treatments such as routine examinations and cleanings, treatments for periodontal disease, and a number of other services.
About Dr. Setti, Cosmetic Dentist Los Angeles
Dr. Setti became a premiere dentist in Los Angeles through his extensive training and hands on experience. He routinely exceeds the number of continuing education hours required of him to stay abreast of the latest procedures in general and cosmetic dentistry. He is an active member of the Southern California dental community and he has completed advanced courses and training programs at USC, UCLA, and Loma Linda University Schools of Dentistry and at California Dental Association Scientific Sessions.
Contact Dr. Setti's office to schedule an appointment. New patients should mention the complimentary teeth whitening offer when they schedule their appointment.
Contact
Dr. Carlos Setti, DDS
8747 Santa Monica Blvd.
Los Angeles, CA 90069
Phone: (310) 659-0120
Website: http://www.drsetti.com