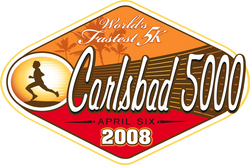 Carlsbad, Calif. (Vocus) February 27, 2008
Voted "Best 5K of 2007" by Competitor Magazine, the Carlsbad 5000 celebrates its 23rd anniversary in the seaside village of Carlsbad on Sunday, April 6, 2008. Known as the world's fastest 5K, thousands of runners have come to this annual race to enjoy the scenic 3.1-mile course, and in many cases, set world records. More than 14,000 runners, walkers and junior racers are expected over race weekend, and participants are encouraged to register online now to take advantage of the early registration fees by visiting http://www.eliteracing.com. Online registration for the Carlsbad 5000 is $40 through March 30.
Race Weekend
Race weekend kicks off with the Spenco Insoles Junior Carlsbad on Saturday, April 5. Nearly 4,500 kids ages two-12 will take part in a variety of age appropriate races. All racers receive a T-shirt, goodie bag and finisher's medal for their efforts. Awards will be presented to the top three junior athletes ages five-12. Registration is only $22 for those who sign-up before March 30. Families can register online at http://www.eliteracing.com.
On Sun., April 6, the Carlsbad 5000 will attract many competitive runners from around the country and the world, as well as a strong group of walkers. Race day begins at 7:05 a.m. with the first of nine races. The main event, featuring the world's fastest professional athletes, begins at 12:15 p.m. Race fans can expect a strong attack at the world's best times from the emerging field.
A free Health & Fitness Expo takes place on race weekend, on Saturday, April 5 from 7 a.m. to 2 p.m. and on Sunday, April 6 from 6:30 a.m. to 1 p.m. The Expo will serve as Carlsbad 5000 race registration headquarters on Saturday starting at 10 a.m., allowing participants to pick up their race number, timing chip, t-shirt and goodie bag. The interactive Expo, located on Roosevelt Street between Grand and Carlsbad Village Drive, will display running apparel and shoes, fitness gear, and health and nutrition items.
For more information or to register for the Carlsbad 5000 and the Spenco Insoles Junior Carlsbad, visit http://www.eliteracing.com or call (800) 311-1255.
Group Competition
For those who need additional motivation to run a 5K, participants can gather 3-5 of their fastest friends and take part in the Team Competition. Categories include Open Women, Open Men, Open Mixed, Masters Men and Women (age 40 and over), Military and Corporate.
Runners and walkers can also recruit co-workers, friends and family for a team bonding experience. The three divisions include The City Challenge (City, County and Municipal employees), Corporate Cup (colleagues, co-workers and business associates) and Other Groups (running clubs, friends/family, schools, etc.) Discounted entry fees are offered to groups of 10 or more.
Kids Running for the Entoto Foundation
Following in the footsteps of some of Ethiopia's best runners, a number of children in the Spenco Insoles Junior Carlsbad are lacing up their running shoes to help the Entoto Foundation. This non-profit organization, named after Mount Entoto, the tallest peak in Ethiopia, is dedicated to raising money to provide life-saving medical treatments for children and adults in Ethiopia. For more information about the Entoto Foundation, visit http://www.entoto.org.
Carlsbad 5000 Race Day Schedule
Masters Men 40 and over: 7:05 a.m.
Masters Women 40 and over: 8:00 a.m.
Wheelchair Invitational: 8:50 a.m.
Men 30-39: 9:25 a.m.
NEW! Women 30-39: 10:20 a.m.
People's Walk: 10:25 a.m.
NEW! Men and Women 29 and under: 11:30 a.m.
Elite Men's Invitational: 12:15 p.m.
Elite Women's Invitational: 12:17 p.m.
Spenco Insoles Junior Carlsbad Race Day Schedule
NEW! Age 12 (1 Mile): 7:50 a.m.
NEW! Age 11 (1 Mile): 8:00 a.m.
Age 10 (1 Mile): 8:15 a.m.
Age 9 (1 Mile): 8:30 a.m.
Age 8 (1 Mile): 8:45 a.m.
Age 7 (1 Mile): 9:00 a.m.
Age 6 (½ Mile): 9:20 a.m.
Age 5 (½ Mile): 9:35 a.m.
Age 4 (¼ Mile): 9:55 a.m.
Age 3 Toddler Trot: 10:15 a.m.
Age 2 & under Diaper Dash: 10:30 a.m.
Ian Monahan
Elite Racing, Inc.
858/450-6510
# # #