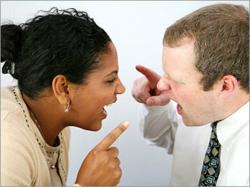 The key is to resolve conflict before things escalate into something more than conflict.
San Francisco, CA (PRWEB) May 09, 2013
Carlton's Training reveals a new plan to reduce conflict resolution in the workplace by prescribing a set of training videos that pinpoint the cause of conflict, why it persists, and also why it is unavoidable. Their goal isn't the impossible one of eliminating conflict from work. Carlton's Training focuses on what to do when conflict occurs.
The latest training video, Ace it! How to Solve Tough Workplace Problems at Carlton's Training, tackles the subject from a very straight forward step-by-step process while also considering feelings. The model supports the asking of face as well as feeling questions so all parties are involved and heard. Next, the manager makes sure to clarify all goals and identify any concerns. Lastly, managers are instructed to evaluate opinions and select reasonable and workable solutions to the issues.
But not all situations are the same. Conflict resolution isn't always about sitting two people down to have a conversation. Most times other staff is in the picture with opinions and sides have been taken with lines drawn. It has to be a situation that is manageable. And likely when it comes to managers, it isn't. What Carlton's Training offers is a plan to bring the offended members together not for a tell all or judgment, but for a meeting of the minds to identify the feeling of all.
Sometimes, conflict can lead to physical confrontations that are unexpected. The first thing Carlton's Training recommends is to report each incident and document all members of the situation. This is key. A clearer picture forms over time and altercations at work cannot be tolerated. Employees need to be able to express their opinions without the fear or threat of conflict that can lead to violence. "The key is to resolve conflict before things escalate into something more than conflict," says Jessica Lane of General Mills.
Everybody Wins: Turning Conflict into Collaboration is also on the Carlton's Training site and emphasizes collaboration as a useful tool to reduce and resolve conflict. It even identifies the various forms of conflict such as peer-to-peer conflict, work team conflict, and manager to employee conflict.
Carlton's Training has been serving its clients for over thirteen years with programs on subjects as diverse as customer service training, leadership training and diversity training. Their programs feature famous personalities such as Lou Holtz, Tom Peters, Ken Blanchard of Situational Leadership fame as well as John Cleese, Dewitt Jones and Joel Barker.
If you wish to view any of the programs, Carlton's Training offers non-sign in easy one-click previews to watch the actual programs mentioned here and many others they represent. Feel free to click Carlton's Training to view.