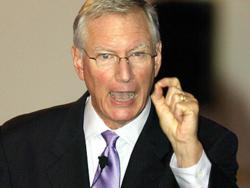 A leader's goal is not to be the best strategist, but to hire the best strategist.
New York, NY (PRWEB) February 03, 2013
Carlton's Training has utilized Jim Case for the negotiations of corporate contracts with the organization for eleven years and now needs to address client's needs for workplace bullying. This consulting firm has handled the corporate training for worldwide companies like IBM, Toyota, Apple, General Electric Cardinal Health, and the US Department of Defense. The negotiations for these contracts by Jim Case have connected Carlton's Training to such worldwide figures as Lance Armstrong, Joel Barker, John Cleese, and Ken Blanchard of One Minute Manager fame.
The focus of the corporate training world has always been management training. But more and more, delicate subjects such as diversity training, harassment, and now workplace bullying have come to the fore.
As in the past Carlton's Training is partnering with some of their existing business leaders and celebrities to tackle this tough subject. One such business luminary is Tom Peters. Peters has been featured on 60 minutes and been in high demand for years to businesses across the world. The strategy in his corporate training films like In Search of Excellence and Passion for customers have included businesses such as Walt Disney, Whole Foods, USAA, and Coca-Cola. "A leader's goal is not to be the best strategist, but to hire the best strategist," says Tom Peters.
Like workplace bullying, diversity in organizations has become more and more important. The ideas brought about through the rich backgrounds of global organizations have benefited the business world in ways exponentially profitable to companies' bottom lines. Training videos like Village of 100 demonstrate how having a diverse workforce is no longer something useful but essential for success.
Carlton's Training has managed the corporate strategies for organizations for over thirteen years. Their work with business luminaries and celebrities in their training programs include John Cleese, Lou Holtz, Ken Blanchard, Morris Massey, Catherine Crier, Stephen Covey, Bob Farrell, Dewitt Jones, and Joel Barker.
Carlton's Training utilizes the contract negotiations of Jim Case, the popularity of the training videos they handle, and the corporate legal knowledge of their business team to advance the productivity of their clients. They provide training in areas such as change management, management training, conflict resolution, diversity training, ethics and conduct, generational differences, employment hiring, leadership training, performance appraisal, performance management training, safety training, team building, sexual harassment training, substance abuse, workplace violence, time management, and project management. To see other subjects on corporate training or learn more about Carlton's Training, Jim Case or any of the business experts mentioned here, click here at their site carltonstraining.com.