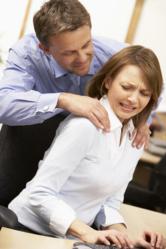 We have to promote an atmosphere of respect and harmony free of harassment to be productive professionally.
Boston, MA (PRWEB) February 04, 2013
Jim Case of Carlton's Training is negotiating a four-tier sexual harassment training component to enter the corporate training world this week. Carlton's Training has negotiated and maintained contracts with Mattel, Guess, Gucci and Nordstrom. Carlton's Training has begun contract negotiations with producers spearheaded by Jim Case to promote a new corporate initiative for a global sexual harassment prevention program.
Since the US Supreme Court rulings in 1998, organizations have fought harder to maintain a workplace free from sexual harassment. Unfortunately it has been the hefty fines for violation of these rulings that has seen the reduction of their occurrence. Still, the training efforts made to avoid violations has been robust. "We have to promote an atmosphere of respect and harmony free of harassment to be productive professionally." Says David Green of Intel.
Sexual Harassment: Let's Get Honest is a corporate training video that has become the go to answer for corporations in their efforts to seek a harmonious and respectful workplace. The training video takes real to life situations that are not the obvious selections so that co-workers can examine their own behavior and make adjustments.
Sexual Harassment: Awareness, Perception, and Prevention forces managers and employees alike to take responsibility for their comments and actions in the workplace. The program also offers a grievance policy and how employees can express concerns over a fellow employee's unwanted advances or undesired behavior.
Carlton's Training has worked with some of the most prolific business minds in the world along with renowned celebrities that include John Cleese, Lou Holtz, Joel Barker, Morris Massey, Stephen Covey, Ken Blanchard, Catherine Crier and Dewitt Jones.
The sexual harassment training of Carlton's Training has become an important issue for Jim Case. Besides sexual harassment, Carlton's Training handles time management, project management, chemical agents, ethics and conduct, finance training, generational differences, about harassment, innovation, safety training, sales training, team building, customer service videos, telephone customer service training, sexual harassment training, substance abuse, trainer for trainers, and workplace violence. To see other subjects of interest on management training, see information on Jim Case, or view Carlton's Training information, click here at their site carltonstraining.com.