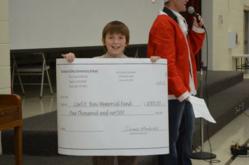 New York, NY (PRWEB) December 31, 2012
In the wake of the devastation caused by Hurricane Sandy, 10 year-old Rowen Henneman took it upon himself to make a difference, and help those affected during the holiday season. The fourth grader at Shadow Valley Elementary School in Ogden, Utah coordinated a school-wide fundraiser which brought in $1,000 and presented the check to The Carl V. Bini Memorial Fund in Staten Island, New York.
The Shadow Valley School has roughly 300 students ranging from Kindergarten to 6th grade, and after learning about The Carl V. Bini Memorial Fund on The Daily Show with Jon Stewart, Henneman approached his step-father and the school's principal about the initiative.
"When Rowen first told me about his desire to help, I supported him 100%," said Kent Winward, Rowen's step-father. "After speaking to the Principal and then talking it over with the students, they had a sense of hope and pride in being able to help others."
The fundraiser took place over the course of three weeks and in addition to reaching out to both students and parents in the school, Rowen also reached out to local businesses to support the effort. Three Ogden merchants decided to participate by offering prizes for the three classes that raised the most money with Rowen's fourth grade class placing first followed by the two first grade classes.
The fundraiser ended on Friday, December 21st at the school's holiday assembly where the entire student body and faculty gathered and took a photo around the check in the amount of $1,000 which was sent to The Carl V. Bini Memorial Fund on Staten Island. The organization's Co-founder, Massimo DiDonna, spoke with the children via telephone through the public address system and commended them on their efforts.
"To say that I was truly touched by the gesture is an understatement," said DiDonna. "These children realized that families were going to have a tough time during the holidays, and literally took it upon themselves to help people thousands of miles away. The story of Rowen, the other students, faculty, and parents of Shadow Valley is one that everyone should hear, because they are the brightest example of how during times of tragedy there is always a ray of hope that shines through."
About The Carl V. Bini Memorial Fund
The Carl V. Bini Memorial Fund was founded in honor of Firefighter Carl V. Bini, a member of the FDNY tragically taken during 9/11. The fund's mission is to memorialize the heroism of its fallen hero by providing aid to those who so desperately need it now and in the future.
For more information about the organization please visit: http://www.BiniFund.org