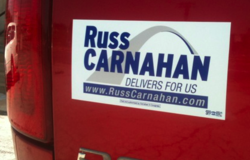 PolitiView provides an innovative platform to bring our campaign directly to voters.
St. Louis, MO (PRWEB) July 24, 2012
PolitiView.com announced today that Missourians can now access a new way to learn about U.S. Congressman Russ Carnahan's campaign. PolitiView.com is the Web's first video marketplace for politics, giving voters unique comparison shopping tools to help them make important political decisions.
"While candidates have certainly utilized digital media to promote their campaigns, there has yet to be a comprehensive video-centric site to bring candidates – literally side by side – for instant comparisons by voters, until now," explained company founder and president, Susan Nightingale. "In a world where we are almost all creators and consumers of media, PolitiView is offering a space where campaigns have an instantaneous, do-it-yourself social platform for posting videos of their candidate right alongside their opponent."
Carnahan currently represents Missouri's 3rd congressional district, but due to re-districting, he is running in the 1st congressional district against fellow democrat incumbent Congressman William Lacy Clay, Jr. With less than a month to the primary (August 7) Carnahan's team utilized Politiview's "Top 10 Fast-Start Action Steps" to quickly mobilize the technology to work for them.
"We know the importance of finding the best method to connect with constituents in a constantly evolving digital space. Politiview.com provides an innovative platform to bring our campaign directly to voters," said Carnahan Campaign Manager Maurice Henderson.
PolitiView.com levels the playing field for candidates and campaigns, and simplifies the process of political comparison shopping for voters, who simply type in their address to discover what electoral races and ballot issues they will see in the voting booth. They can then click on a race, see the candidates who are running, and compare videos and campaign content from all the candidates. Utilizing the best of Web 2.0, PolitiView.com aggregates, organizes and customizes political information to make it relevant and valuable to voters. PolitiView.com also makes it easy – and fun – for voters to access the political system and make political decisions before they enter the voting booth.
Accessing campaigns on PolitiView is free to voters, and subscriptions to PolitiView are available to any candidate, political party, special issue group and ballot measure organization for a nominal charge. "In a large sense, voting is an emotional act. People vote for the candidate whom they feel they can trust," Nightingale continued. "Through watching candidates' videos, voters feel almost as if they have met the candidate. With PolitiView, the campaign comes to you."
About PolitiView, Inc.
PolitiView.com is the Web's first video marketplace and comparison shopping site for politics that puts the voter in charge. Unlike other information sources, PolitiView.com provides comparison shopping and context; and brings the campaign directly to voters in the easy video format they know and have come to expect in today's online world. Campaigns, political parties, special issue groups and ballot measure organizations supply a wide range of video content to better inform voters. Voters can watch, analyze and comparison shop in the political realm – just like they do for any other important purchase decision. Website content is supplied entirely by campaigns, who pay a monthly subscription fee. Voters access the site for free. PolitiView is completely nonpartisan. For more information, visit http://www.PolitiView.com or call 888-947-8439.
# # #