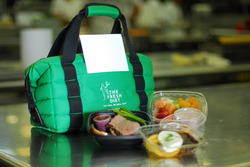 "I've already lost seven pounds," says Carnie, who weighed in at 218 pounds on the January 13, 2010 episode. "It's such an easy, accessible program that I'm confident I will reach my goal."
Miami Beach, FL (PRWEB) February 18, 2010
Actress, singer and television hostess, Carnie Wilson, will host a blog on The Fresh Diet, chronicling her quest to whittle her weight down to 160 pounds.
Carnie, who is the official spokesperson for the daily, gourmet diet delivery service, The Fresh Diet, was recently given a "wake-up" call when Dr. Oz informed her on national TV that unless she got her weight under control, she could be looking at serious health issues such as elevated blood pressure and cholesterol levels as well as diabetes.
So the reality show star and host of The Newlywed Game quickly turned to The Fresh Diet for help.
"I've already lost seven pounds," says Carnie, who weighed in at 218 pounds on the January 13, 2010 episode. "It's such an easy, accessible program that I'm confident I will reach my goal."
Fans can catch up on Carnie's progress at Carnie's Corner at blog.thefreshdiet.com where the daughter of the legendary Beach Boy, Brian Wilson, will discuss details of her daily weight loss as well as answer emails about her progress.
Carnie will also post comments on The Fresh Diet's Facebook & Twitter Pages, says Zalmi Duchman, CEO of The Fresh Diet.
"Carnie wants her fans to know that this will not be an easy journey," says Duchman. "She is doing this to lose the weight she put on due to her second pregnancy and with our help and a supportive network we are going to help her reach her goal."
By providing clients with fresh, daily hand delivered, gourmet meals, which unlike other diets are not frozen, freeze-dried or vacuum packed, Fresh Diet has developed a loyal clientele. Their unique menus are mouth-watering as well as healthy; including such delectable breakfast meals such Hawaiian macadamia nut whole wheat waffles for breakfast.
The Fresh Diet is a system of nutritionally balanced and delicious meals that are made fresh and hand delivered to your door daily. Headquartered in Southern Florida since 2005, The Fresh Diet -- http://www.thefreshdiet.com -- now serves clients daily in Boston, Philadelphia, New York City Tri-State area, Washington, D.C., Los Angeles, San Diego, Chicago, South and South West Florida from company-operated kitchens in Chicago, Los Angeles, Miami and New York.
###