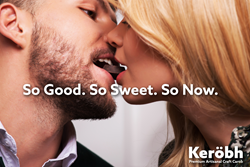 "I've tried Keröbh, personally, and like it – I let it melt on my tongue to get the full, smooth effect. And it has the wonderful carob flavor – sweet, toasty and nutty." - Meg Cotner, Paste Magazine
Eldersburg, MD (PRWEB) May 24, 2016
People are noticing Keröbh. On May 9, Paste Magazine featured Keröbh in Meg Cotner's article "Second Look: Carob" observing that carob is "starting to experience a bit of a comeback" and "regarding carob's resurgence in the US, look no further than a company called Keröbh, creating 'premium artisanal craft carob.' Yes, that's right – 'artisanal' has reached the carob world".
Highlighting the fact that Keröbh has replaced the traditional hydrogenated vegetable oils found in most carob, with the higher quality alternative of cocoa butter, Cotner reports, "I've tried Keröbh, personally, and like it – I let it melt on my tongue to get the full, smooth effect. And it has the wonderful carob flavor – sweet, toasty and nutty."
Cotner continues, "Carob is a delicious, nutritious, and delightful product, and it's heartening to see it becoming embraced again. I encourage you to seek it out and give it a try – you may discover a new love for carob."
Carob has a rich history dating back thousands of years. It's Mediterranean origins coming to life with mentions in the Bible and the Talmud, carob is possibly most famous as the food that John the Baptist lived on in the wilderness as mentioned in the Gospel account, garnering it the name, "St John's Bread".
"While carob got a bit of a bad name in the sixties and seventies because of carob producers' inclusion of waxy and less than satisfying hydrogenated vegetable oils as the base for their candies, at Relivate we are excited to be bringing a new approach to carob by combining it with the smooth, rich, and more compelling mouth feel of cocoa butter," says Galadriel Simons, one of the founders of Relivate, Inc, the maker of Keröbh.
Focused on taking carob to the next level and offering a premium, artisanal, craft carob in a space dominated by bulk carob chip producers, Relivate, Inc is currently offering its carob products exclusively on its website, Keröbh by Relivate