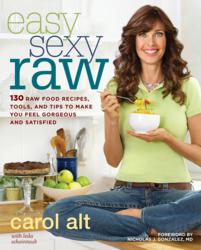 New York, NY (PRWEB) May 10, 2012
Manhattan-based real estate company Stonehenge Partners (http://www.stonehengenyc.com/) today announced that International model and actress Carol Alt will launch her new book, "Easy Sexy Raw" (Clarkson Potter), at an exclusive May 14, 2012 event held on the exquisite rooftop of The Olivia at 315 West 33rd Street.
Stonehenge has connected with Carol Alt, a born and raised New Yorker, as both share a deeply rooted interest in caring for the needs of fellow city-dwellers, reducing stress and embracing a healthy NYC life. Alt is a cancer survivor and she credits her change of diet as the way she fought back the disease. The former supermodel and Celebrity Apprentice star is committed to spreading her knowledge and this is her third book related to raw food. Carol Alt's raw food lifestyle has allowed her to sustain her beauty and health, and now she is ready to bring her informative message to the people, beginning with the 6,000 Stonehenge residents.
During the "Easy Sexy Raw" launch, Stonehenge will have hundreds of free copies of Carol Alt's book available to residents. Upon signing up for its Wellness at Stonehenge group, residents will receive a complimentary copy of Easy Sexy Raw along with access to free yoga classes, special invitations to partner events (including the James Beard Foundation's Enlightened Eaters), and consultations with wellness professionals. The evening will feature several juices from one of Carol Alt's favorite suppliers and a long-term partner of Stonehenge, Organic Avenue, and a tasting of several recipes from the book.
The Carol Alt book launch is part of the Stonehenge Partners' "Wellness at Stonehenge" program, now in full swing. The program is a premiere piece of Stonehenge's Lifestyle initiative that includes stress reducing activities, accessible fitness classes, healthy food initiatives, and workshops with leaders in the wellness industry. The healthy NYC programming is sited within the Stonehenge properties and feature certified local instructors through partnerships with celebrated Manhattan organizations. Current partners include Natural Awakenings Magazine, National Yoga Month, and Sports Club LA.
"It is an honor and thrill to have Carol Alt release her latest book at one of our properties," states Stonehenge Creative Director, Michael Stern. "Stonehenge strives to provide more than a home to our residents – we are responsible for the quality of their lives. Our healthy philosophy, from using non-toxic cleaning products to educating residents on organic foods, matches Carol's lifestyle perfectly and we look forward to a great event."
About Stonehenge Partners
Stonehenge Partners is a fully integrated real estate company which was founded over 18 years ago. The company owns and manages residential apartments as well as commercial property, in the borough of Manhattan in the City of New York. With 27 properties in the portfolio Stonehenge has become one of the dominant landlords in New York City. The company employs over 55 professionals at its head office located at 888 Seventh Avenue in Manhattan, New York. For more information about Stonehenge Partners please visit http://www.stonehengenyc.com