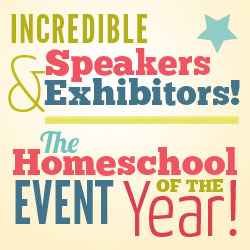 Our conventions are designed to help a broad spectrum of homeschool families with an exhaustive range of homeschooling resources." said Mary Jo Dean, co-founder of Great Homeschool Conventions, Inc
Greenville, South Carolina (PRWEB) February 14, 2012
On March 22nd-24th, 2012 at the TD Convention Center in Greenville, SC, Great Homeschool Conventions, Inc. will host their annual South East Homeschool Convention.
Featured speakers include Chuck Colson, Andrew Pudewa, Diana Waring, Michael Clay Thompson, John Stonestreet, Leigh Bortins, David Hazell, Dr. Jay Wile, Dr. Kathy Koch, Jim Weiss, Dr. Carol Reynolds, Ed Zaccaro, Scott & Marcia Somerville, Steve Demme, Dr. Jonathan Sarfati and dozens more outstanding home education speakers.
"We love homeschooling and homeschoolers. We believe passionately in the God-given right and responsibility of parents to train and educate their children. Our conventions are designed to help a broad spectrum of homeschool families with an exhaustive range of homeschooling resources." said Mary Jo Dean, co-founder of Great Homeschool Conventions, Inc.
Homeschool curriculum offerings will be available in a large exhibit hall filled with over 200 vendors displaying a variety of educational resources that include subjects such as: Phonics, Reading, Literature, Foreign Language, Spelling, Vocabulary, Early Learning/Preschool, Composition & Grammar, Art, History, College Prep, Math, Science, Music, Dual Credit High School courses and more.
Over 200 information-packed homeschooling workshops will be available to help encourage and equip homeschooling parents. Friday night is comedy night, and features popular comedian Leland Klassen. Saturday night, Mark Gungor will host his "Laugh Your Way to a Better Marriage®" seminar. Workshops will also be available on teaching various levels of Mathematics, Science, History, Writing and more. Other workshops will cover Special Needs, Classical Homeschooling, Charlotte Mason methods, Learning Styles, Christian Worldview, Creation Apologetics, Christian Parenting and dozens more homeschool-related subjects.
"We are also excited to provide each family attending this year's South Carolina Homeschool convention with a complementary first-year membership in Homeschool Legal Advantage, and a free one-year subscription to The Old Schoolhouse Magazine," said Mary Jo Dean.
This extremely affordable, regional homeschool convention draws attendees from South Carolina, North Carolina, Georgia, Florida, Tennessee and several other states.
You may register online to attend the conference at http://www.SouthEastHomeschoolConvention.com
With conventions in South Carolina, Tennessee, Ohio, California and Connecticut, Great Homeschool Conventions is an organization committed to serving, supporting and encouraging all homeschooling families. Visit http://www.greathomeschoolconventions.com
###