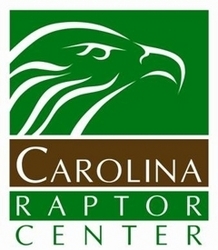 Tickets to Carolina Raptor Center are all inclusive; visitors are free to attend a single presentation or see them all for one price.
Huntersville, NC (Vocus) May 29, 2010
Carolina Raptor Center is offering 2 for 1 ticket pricing now through Labor Day for anyone who mentions the promotion. Ticket prices are as follows:

Adults =$10
Students/Military/Seniors/Teachers = $8
Under 2 years old = FREE
Group rates are available for $6/person -- minimum of 15 people
Tickets to Carolina Raptor Center are all inclusive; visitors are free to attend a single presentation or see them all for one price.
Get up close and personal with raptors this summer at Carolina Raptor Center. New exhibits include the Eurasian Eagle Owls, Corvids and new educational kiosks. The Eurasian Eagle Owls, one male and one female, came to Carolina Raptor Center from St. Louis as a gift from the National Aviary. The Corvid Exhibit, which is currently under construction and coming this summer, explores human superstition associated with Jays, Magpies, Ravens, Crows and other Corvids and animal intelligence. The new child-focused kiosks explain the physics and history of flight.
Each weekday at 1 pm, Carolina Raptor Center offers a different interactive raptor experience. A behind-the-scenes tour is offered on Mondays, demonstrations of birds in flight are offered on Tuesdays and Wednesdays and live bird demonstrations are offered each Thursday and Friday.
Weekends offer even more opportunities. Each Saturday and Sunday, demonstrations of birds in flight and live bird presentations are held every half-hour starting at 11:00am Saturdays and 12:30pm Sundays. The vultures are fed at 12:30pm each Saturday and Sunday.
Incorporated in December 1981 and based in Huntersville since November 1984, Carolina Raptor Center has been dedicated to the care and successful release of injured and orphaned birds of prey, including hawks, owls, harriers, eagles, falcons and vultures. The center houses more than 20 species of raptors, most too injured to return to the wild, plus cares for approximately 700 injured or orphaned raptors annually at its Jim Arthur Raptor Rehabilitation Center where the birds receive treatment, recovery and eventually, release.
Carolina Raptor Center is located at 6000 Sample Road in Huntersville, N.C. near Latta Plantation. Summer hours are Monday-Saturday, 10:00 a.m. – 5:00 p.m. and Sunday 12:00 – 5:00 p.m. Admission is $10 adults, $8 seniors/students/military, and free to children under two when accompanied by a parent. Membership starts at $30 and includes free admission to the Center throughout the year. Programs include adopt-a-bird, summer and home school camps, raptor keeper for a day, professional consulting, release-a-raptor and bird handling workshops, plus other close-encounter adventures. For more information, visit the Center's website at http://www.carolinaraptorcenter.org .
###