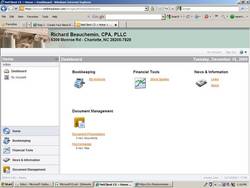 The Business Management Portal provides us with a phenomenal vehicle that enables us to reduce waste while providing our clients with a value added service.
Charlotte, NC (PRWEB) December 17, 2009
Richard A. Beauchemin, CPA/Carolina Accounting & Tax Service, PLLC announced today they have implemented an environmental waste reduction program. The program will reduce consumption of paper by more than 75,000 pages per year and eliminate the need of more than 50% of the ink toner cartridges used.
Richard A. Beauchemin, CPA/Carolina Accounting & Tax Services, PLLC is accomplishing this goal by setting up each client on NetClient with their own secure Business Management Portal. Rather than printing out hard copies of financial reports and payroll reports and distributing them to each client, the documents will be sent to a client's secure Business Management Portal where it will be stored in their own electronic file cabinet. When the client logs into their portal, they can, view the document, download it to their computer, email it to an interested party or print out only those pages they need.
Clients, in addition to assisting with a program targeted at environmental waste reduction, will realize several additional benefits from the implementation of this program. These include:
1.) A central storage site for all their financial records. Clients will be able to access their financial information and locate a report from anywhere in the world via an internet connection.
2.) Disaster recovery system for their financial records. When Katrina hit, many small business owners lost all their business records, because they were stored and backed up locally. The servers, where clients' financial records are stored, are highly secure with redundant back-up systems. The data is backed up to two locations in different parts of the country, assuring that clients' data is protected, in the event of a disaster.
3.) Communication tool. The Business Management Portal is a vehicle that will be used to communicate and update clients with the latest tax law changes, new business regulation requirements and other tips aimed at helping them operate their businesses more effectively.
Richard A. Beauchemin, CPA and owner of Richard A. Beauchemin, CPA/Carolina Accounting & Tax Service, PLLC noted: "The Business Management Portal creates a win-win solution for both our environment and our clients. It provides our clients with a value added service, at no additional charge to them, and cuts down on the amount of paper we consume each year. We are excited about offering our clients this eco-friendly solution and have received very favorable feed back from them regarding this program." He also said: " We look forward to further improving on this program and evaluating other programs that we can implement that are eco-friendly."
Carolina Accounting & Tax Service was started in the mid 1950's and was purchased in 1991 by Richard A. Beauchemin, CPA. It then became Richard A. Beauchemin, CPA/Carolina Accounting & Tax Service, PLLC. The company offers a full suite of business support services including payroll, accounting, web based on-line bookkeeping, QuickBooks support, HR support, employee time and attendance systems and personal and corporate year end tax returns.
Businesses seeking additional information regarding our environmental waste reduction initiative or any of our services should contact, Michael Beauchemin, Business Marketing Manager.
###