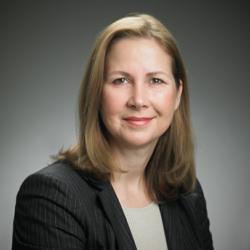 The IPA represents an extraordinary group of scientists & clinical researchers who are advancing field of PDT around the world. It's an honour to serve this community & I look forward to working with newly appointed IPA Secretary" ~Carolyn Cross
Vancouver, British Columbia (PRWEB) June 04, 2013
The International Photodynamic Association (IPA) has appointed Carolyn Cross, founder and CEO of Ondine Biomedical as incoming IPA Treasurer. She will be replacing Dr. Tayyaba Hasan, Professor of Dermatology Wellman Center of Photomedicine, Harvard University, and Board Member of the IPA, in this position. Carolyn Cross was recently the Plenary Session Speaker at the 2013 World Congress of the International Photodynamic Association in Seoul, South Korea, representing the field of work in Photodisinfection; also known as antimicrobial Photodynamic Therapy or aPDT. Ondine Biomedical is the global leader in the design and development of Photodisinfection based therapies, and is involved with all aspects of technology, product and clinical development through to commercialization of photodisinfection products.
"The IPA represents an extraordinary group of scientists and clinical researchers who are advancing the field of PDT around the world. It is an honour to serve this community and look forward to working with the newly appointed Secretary of the IPA, Professor Sam Eljamel, University of Dundee Scotland, who will be hosting the 2017 World Congress in Scotland," says Carolyn Cross upon her appointment.
Founded in 1986, the International Photodynamic Association was created to promote the study of diagnosis and treatment using light and photosensitisers, to disseminate such information to the members of the IPA, the medical community, and the general public. The IPA organizes an International Congress every two years to highlight leading research activities in the clinical and basic research aspects of PDT.
Carolyn Cross is the founder and CEO of Ondine Biomedical Inc. and has over 18 years direct experience working with early stage companies and has 25 years of experience with public market securities. Additionally, she currently serves on a number of Boards including the Canadian Foundation of Innovation (CFI), the International Photodynamic Association and the Faculty of Dentistry, McGill University. She is a Founding Member of the BC Women's Economic Advisory Council and the Ernst & Young Global Women in Business Advisory Council (GWBAC).
Earlier in her career, Carolyn Cross was portfolio manager, responsible for managing pension, pooled, mutual and private client funds as a Vice President with Royal Bank Investment Management Inc., the fund management arm of the Royal Bank of Canada. Carolyn Cross is a currently a member of the Women's Presidents Organization, the International Women's Forum, the Professional Women's Network, the Toronto Society of Financial Analysts, the Society for Canadian Women in Science and Technology, and the Association for Professionals In Infection Control and Epidemiology.
About Ondine Biomedical Inc.
Ondine is an incubator, developing non-antibiotic therapies based on Photodisinfection technology for the treatment of a broad spectrum of bacterial, fungal and viral infections. The Company is focused on developing leading edge products utilizing its patented light-activated technology. Photodisinfection provides broad-spectrum antimicrobial efficacy without encouraging the formation and spread of antibiotic resistance. The Company is based in Vancouver, British Columbia, Canada, with USA Research and Development laboratories in Bothell, Washington and Minneapolis, Minnesota. Please visit the Company website at: http://www.ondinebio.com and Blog at: http://www.ondineblog.com. For further information please contact us at: Ondine Biomedical Inc. info(at)ondinebio(dot)com