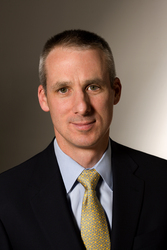 Bob is immensely well-qualified to lead our organization
Lawrenceville, N.J. (Vocus) April 22, 2009
The Board of Governors for GS1 US, Inc., today announced it has elected Robert W. Carpenter as the not-for-profit organization's new chief executive officer, effective May 10. GS1 US, one of 108 country-based affiliates of GS1, a global standards organization, helps businesses adopt and implement standards-based, global supply-chain solutions.
Miguel Lopera, who has been serving as the CEO of GS1 US since 2004 while simultaneously serving as CEO of Brussels-based GS1, will dedicate his focus to the global role.
Carpenter comes to GS1 US from ARAMARK Corporation, where he was senior vice president of Business and Strategic Development for ARAMARK International, a $4 billion revenue division with locations in 22 countries. In that position, he led acquisitions and strategic development in verticals such as healthcare, business and industry, and refreshments. Prior to that, Carpenter was president of ARAMARK Healthcare, a $1.7 billion division serving more than 1,100 hospitals in the U.S., for three years.
With extensive general management and marketing experience in both consumer- and service-based businesses, Carpenter has built winning teams in the U.S. and Europe, achieving reliable revenue and profit performance in new ventures as well as mature businesses. He was with ARAMARK for more than five years, holding three senior leadership positions in which he delivered significant financial and operational results while directing strategies involving thousands of employees.
Carpenter brings deep experience in the healthcare sector to GS1 US and its industry group, GS1 Healthcare US. In addition to serving as president of ARAMARK Healthcare, Carpenter worked for 11 years at Johnson & Johnson and its subsidiary McNeil Consumer & Specialty Pharmaceuticals, where he held marketing positions of increasing responsibility for such leading brands as Tylenol, Motrin, Pepcid AC, and St. Joseph's.
"Bob is immensely well-qualified to lead our organization," said Sandy Douglas, chairman of the GS1 US Board of Governors and also the president of Coca-Cola North America. "GS1 US has helped hundreds of thousands of businesses save hundreds of billions of dollars over its 30-plus years, but it still has a lot of untapped potential. Bob has the operational experience, as well as the sector-specific knowledge, to tap that potential and guide the organization and its member companies into the future."
Douglas pointed to Carpenter's background in general management and his experience in both business-to-business and business-to-consumer roles as key assets, as well as his demonstrated ability to push mature businesses into new territory.
"I'm extremely pleased that Bob will join us," said Lopera. "He brings new perspectives that will bring value to GS1 US and its members. I can now focus full-time on fulfilling our vision for GS1, and I look forward to working with Bob as he leads the U.S. organization."
Carpenter, who will make his first public appearance as CEO on June 3 at the organization's annual U Connect Conference in Orlando, cited the GS1 US mission and its unique operating model as reasons for accepting the position.
"Although GS1 US has accomplished a great deal over the last three decades, there remain tremendous opportunities to strengthen adoption of solutions, standards, and technology across not only its traditional industry verticals, like consumer packaged goods, but also emerging verticals, such as healthcare," said Carpenter. "The chance to participate in a leading role in these efforts influencing international commerce is very exciting."
Carpenter earned an MBA from Harvard Business School in 1992. In May 1987, he graduated Phi Beta Kappa and magna cum laude from Middlebury College with a bachelor's degree in history.
About GS1 US™
GS1 US is a not-for-profit organization dedicated to the adoption and implementation of standards-based, global supply-chain solutions. More than 200,000 businesses in 25 industries rely on GS1 US for trading-partner collaboration and for maximizing the cost effectiveness, speed, visibility, and traceability of their goods moving around the world. They achieve these benefits through GS1 US solutions based on GS1 global unique- numbering and identification systems, bar codes, Electronic Product Code-based RFID, data synchronization, and electronic information exchange. GS1 US operates the subsidiaries and brands 1SYNC™; BarCodes and eCom™; EPCglobal US™; GS1 Healthcare US; and RosettaNet. It also manages the United Nations Standard Products and Services Code (UNSPSC®) for the UNDP. http://www.GS1US.org
Media Contact:
Jon Mellor, GS1 US
609-620-4656
###