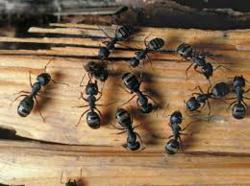 Carpenter Ants resemble termites both in their physical appearance and in the places in which they choose to inhibit. They do not eat the wood like a termite but they will hollow out and build their nests in damp or dry wood
Southport, Connecticut (PRWEB) April 18, 2013
With the harsh Connecticut Winter Eliminate'Em Pest Control Services warns homeowners about the epidemic of Carpenter Ants this Spring.
"Our Winter was so snowy and cold here in Connecticut that Carpenter Ants sought shelter in warm homes and now with the heavy Spring thaw these ants are starting their new life cycle and nesting in the cold, damp wood. Homeowners may be surprised to find Carpenter Ants this Spring as it heats up. Because most pests are dormant in the winter, " says Kenny Vayda President/CEO of Eliminate'Em Pest Control Services. "don't be caught off guard."
"Carpenter Ants resemble termites both in their physical appearance and in the places in which they choose to inhibit. They do not eat the wood like a termite but they will hollow out and build their nests in damp or dry wood. A homeowner may have a leak in their roof that they are unaware of which will then be a prime opportunity for Carpenter Ants to nest within the structure of a home" adds Vayda.
Carpenter Ants can also have wings and can fly throughout a home jumping from nest to nest. Often in the Winter time homeowners don't realize they have a Carpenter Ant problem until it's too late and they are infested.
According to Vayda, "If a homeowner sees one or two what appear to be flying ants we strongly recommend they call a pest exterminator because where there's one or two there are probably thousands. We urge homeowners to check their attics for roof leaks and damp wood. If homeowners notice a water spot on their ceilings they need to check out the source of the problem. Waiting too long will be detrimental to proper pest management. Carpenter Ants are notorious for finding the damp wood in a structure and building their nests immediately."
In the Winter ants typically seek warmth and a food source so they are drawn indoors during the winter time. Eliminate'Em Pest Control Exterminators caution homeowners about leaving excessive crumbs and food scraps on the floor or in the bottom of the trash can inside their home, this can be a food source for ants. Pet foods also can also be a source for ants. Dog or cat food that spills in a homeowners garage or inside their home can be also be a food source for ants.
"Keeping a clean house with very little food (including pet food) is helpful to control ants in the home. Homeowners with small children need to be aware that crumbs on the floor are a great food source for sugar ants, carpenter ants and really any bug" states Vayda.
Eliminate'Em Pest Control Services offers pest extermination and wildlife control to homeowners throughout the tri-state area including Connecticut, Westchester County, New York (including the Bronx, Putnam, and Dutchess County) and Western Massachusetts. Eliminate'Em Pest Control specializes in exterminating carpenter ants, termites, carpenter bees, sugar ants, ticks, fleas, bees, wasps, hornets and yellow jackets. Their exterminators also specialize in wildlife control to remove squirrels, flying squirrels, nuisance ground hogs, wood chucks and moles.
To speak with a residential exterminator please call Eliminate'Em Pest Control Services at 1-866-802-PEST or visit online at http://www.eliminateem.com for more information on carpenter ants and pest control management.