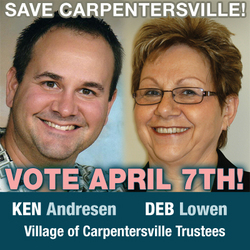 Deb and I are the only candidates in this race who have done anything with web video
Carpentersville, IL (PRWEB) April 7, 2009
YouTube video clips of Carpentersville Village Board meetings have received much attention by the public and local media for being both entertaining and informative of how municipal government works; pointing out the good and bad, but always truthful. Today, in a major announcement, three candidates in the upcoming Village of Carpentersville election have announced that Carpentersville is ready for the next step - making the full videos of all Village board meetings available to anyone, anywhere, and anytime, online.
Two of those candidates, Ken Andresen and Debra Lowen, both running for Village of Carpentersville Trustees, may appear rather different on the surface. One is an Information Technology Support professional, possessing great experience with computers and online systems. The other is a housewife and former customer service rep in the insurance industry; and, like most of her fellow Carpentersville residents, a newbie to Web video.
Both decided to run together as independents on a shared platform of changing the way politicians can work with their local community - by using Internet technology to listen to residents' needs, share their thoughts, collaborate on ideas and projects, and create good communication and transparency with Village government.
"Deb and I are the only candidates in this race who have done anything with web video," says Andresen. "We know how powerful it can be with getting a message across and reaching out to others - not only for them to watch, but to comment and participate as well."
Ken and Deb enlisted the aid of Grant Crowell, a former Carpentersville resident and video marketing specialist, who successfully lobbied for the Village to fund videotaping of all its board meetings back in 2005. Grant was responsible for shooting all of the videos and building their own Save Carpentersville! YouTube channel, along with the "Save Carpentersville" wiki website, featuring more of Ken and Deb's campaign platform.
Grant started a playlist on YouTube back when he was still a resident of Carpentersville. Since then, he has amassed nearly 200 clips of Carpentersville board meetings, with many of those clips getting thousands of views and hundreds of text comments from others in Carpentersville and nationwide. Grant says that making video of board meetings and other Village government events all online is an enormous improvement over television in many ways:
-- Quicker. A video of a board meeting can be posted as quickly as the next day online.
-- Easier access. Just have a broadband Internet connection and you can watch anywhere, anytime.
-- More flexible. You can scroll to the point in a web video you want to watch, rather than waiting hours to get to it on television
-- Community-friendly. You can accept comments from others and get their feedback.
-- More cost-effective! Online video is free on YouTube and Google Video, and requires no 3rd party vendors or advertising.
Grant is also submitting plan for the Village of Carpentersville on how they can best make the migration from cable-video to Internet video, which he is attempting to have on the agenda for the next Village Board meeting on Tuesday, April 21st.
"The best thing about this plan is that it doesn't cost taxpayers a dime." Says Grant. "I would offer to train volunteers on how they can do what I've been doing, free of charge. All I want to see is the Village Board and management giving their support to make this happen."
One person on the board has already been convinced - Village of Carpentersville President running for re-election, Bill Sarto. Sarto has said he will push with the rest of the Village board to have videos of future meetings available online, whether he wins or loses his re-election.
"Grant has really helped the Carpentersville community with making our meetings available to the public through television," says President Sarto. "I've been a strong supporter of open, honest government and the public's right to know. Grant has helped me understand how important it is for us to move to the next level of technology, and now to provide full video of our board meetings to everyone; not just one part of our community anymore (the one that has Comcast Cable). I promise my full support to work with Grant, Ken and Deb, on getting Village backing for working with volunteers and improving communication and transparency with our residents through web video."
About Grant Crowell, Senior Media Analyst, ReelSEO:
Grant is a professional online video marketing specialist, reporter and podcast/video news cast producer and host for ReelSEO - specializing in online video marketing news and solutions for small to medium businesses and the vendors who serve them.
###