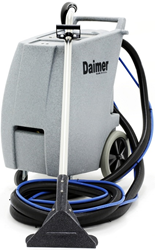 Daimer® is excited to launch carpet cleaning equipment that offers rapid drying times of approximately two hours. Quick drying makes the XTreme Power® XPH-9300 the best carpet cleaner for cleaning commercial settings ...
Woburn, MA (PRWEB) January 23, 2013
Daimer Industries, Inc.®, the world's leading supplier and USA producer of the most extensive line of over 700 commercially manufactured machines for most applications, offering portable carpet shampooer machines, professional carpet cleaning equipment, rotational tile and grout cleaning machines, and advanced water damage restoration machines, and other systems, is now shipping the XTreme Power® XPH-9300 to libraries.
The company's carpet cleaner features large solution and recovery tank sizes of 17 gallons and 15 gallons, respectively, making the machine best for cleaning larger carpet areas in all commercial settings. The large tanks hold enough water to let cleaning workers function uninterruptedly for up to four times longer, as compared to other brands' machines. The pressure level of 220 psi generated by the machine is higher than other machines in its class.
"Cleaned and new carpets can improve the appearance of any establishment. Maintaining carpets on which a large number walk on a daily basis is challenging, especially if the carpet machines are of low quality, do not feature the right accessories, or do not offer the necessary cleaning power," states Matthew Baratta, Daimer Industries, Inc.® spokesperson. "Daimer® is excited to launch carpet cleaning equipment that offers rapid drying times of approximately two hours. Quick drying makes the XTreme Power® XPH-9300 the best carpet cleaner for cleaning commercial settings like libraries and schools, which require clean and dry carpets within a relatively short period of time. We specialize in outstanding technologies for preventing the mold and mildew that often accompanies the use of other brands' products with higher water flow."
Two powerful inline heating elements within the XTreme Power® XPH-9300 carpet extractor heat water to an outstanding 210º F within only 5 minutes. The advanced Adjustable Temperature Control™ (ATC™) Technology allows operators to increase or decrease the temperatures as per the specific cleaning application. Carpets composed of delicate fibers like wool can get damaged with high temperatures. Therefore, when cleaning such carpets with carpet floor cleaning equipment, operators should not enable heat.
The machine's two powerful two stage motors generate a water column lift of 150 inches and an airflow of 200 CFM for maximum cleaning power and minimum drying time. Additionally, the company's patent-pending Low Flow™ technology also reduces the drying time by reducing water usage. Daimer®'s XPH-9300 versatile carpet cleaneralso comes with the company's patented XTreme-XTraction™ wand technology with self-adjusting head offers extraction power similar to that of an extra vacuum motor. The 12 inch wand provides 60 percent more suction, as compared to other wands in the industry. The technology forms a seal with the carpet and the head easily glides above the surface. It is so easy to use that even a non-professional can work like a pro.
The carpet shampooer machine also features the company's Modular System Design™ (MDS™) and Self-Maintenance Engineering™ (SME™) technologies that let users replace a part easily by themselves. These advanced technologies as well as the products' durability and ease of use make these machines among the industry's most reliable and best carpet cleaner systems. Daimer®'s cleaning machines are popular both nationally and internationally.
The work of a cleaning professional responsible for maintaining huge carpeted areas in libraries becomes even easier with the XTreme Power® XPH-9300's easy recovery chamber drainage functionality and hoses as long as 25'. Such long hoses provide for a cleaning radius of 2000 square feet even when the system is kept at a fixed place. Daimer®'s customers also have an option to buy the 4 inch upholstery tool and staircase wand for cleaning fabric upholstery and carpeted stairs.
Additionally, Daimer®, during its promotions, is offering two free gallons of its Eco-Green® Carpet Care & Upholstery Cleaner solution with all of its pressure-maximized carpet extractor machines Pre-spraying carpets with this liquid and letting it dwell for nearly 15 minutes provides better cleaning results than adding it to the water chamber. Two gallons of concentrated solution can create up to 64 gallons of ready-to-use liquid that can clean up to 64,000 sq. ft. of carpeting.
The Eco-Green® solution is completely soap free and plant based, and has no negative effects on staff or patrons with chemical allergies or asthma issues. It gets extracted immediately and leaves behind absolutely no residues. Carpets remain cleaner for a much longer period of time than those cleaned using soapy, harmful liquids available on the market currently.
For Additional Information:
In order to obtain more information on the XTreme Power® XPH-9300 carpet cleaner, interested parties can contact Matthew Baratta at (888) 507-2220, or visit their website. The systems are exported to more than 240 countries across the globe.
About Daimer Industries, Inc.®:
Daimer Industries, Inc.® is the most renowned supplier of more than 600 models of cleaning machines, including carpet cleaning equipment, industrial car wash equipment, hard surface cleaners, industrial vacuum steam cleaner machines, pressure cleaners, steamer machines, gum removing machines, tile and grout cleaners, and auto detailing equipment. These machines, with advanced technologies, are used for a host of applications, including controlling infection in hospitals, maintaining carpets in hospitality settings, cleaning sidewalks and parking lots, grease removal from heavy machinery, cleaning huge commercial kitchens, and more.