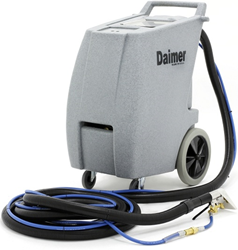 Daimer® is extremely proud to offer a carpet cleaning equipment that effectively cleans with pressurized hot water and helps eliminate buildup on fabric and carpeted surfaces. One very important feature that makes the XTreme Power® XPH-9300U ...
Woburn, MA (PRWEB) February 13, 2013
Daimer Industries, Inc.®, the world's leading brand of American built cleaning machines satisfying practically all applications within most industries, and including such products as innovative carpet cleaner systems, professional carpet cleaning equipment, multi-faceted car wash equipment, water damage restoration equipment, and many other technologically outstanding machines, is now shipping the company's XTreme Power® XPH-9300U, a high-powered, higher-capacity carpet shampooer for the car rental industry.
The portable carpet extractor, containing two powerful two-stage motors, features a 17 gallon solution tank and 15 gallon recovery tank, a special 4" single jet upholstery wand for cleaning upholstered surfaces and carpets in cars, a high pressure level of 220 psi, temperatures up to 210º F, and efficiency-enhancing technologies. All these features make the XPH-9300U among the best carpet cleaner for interior car cleaning.
"Thorough cleaning of car interiors, including panels, dash area, seats, windows, and carpets, requires the use of highly-rugged auto detailing machines. Traditional cleaning ways of using liquid cleaners and brushes cannot remove stains on upholstery and carpets as professionally as newer technologies," says Matthew Baratta, spokesman of Daimer Industries, Inc.®. "Daimer® is extremely proud to offer a carpet cleaning equipment that effectively cleans with pressurized hot water and helps eliminate buildup on fabric and carpeted surfaces. One very important feature that makes the XTreme Power® XPH-9300U among the best carpet cleaner of its kind is the availability of Daimer®'s Low Flow™ technology, which reduces the use of water and cuts the drying time of the rugged steam vacuum cleaner to one hour. Faster drying times are important for trying to clean as many cars as possible during a given day. Time is money and maximizing productivity is critical in the car rental business."
Daimer® is a globally famous company that supplies cleaning machines of the highest quality. Its clients in the U.S., Canada, and over 240 countries highly appreciate the cleaning efficiency and durability of its machines. The systems are technologically advanced and increase the productivity of those in the cleaning business. Daimer® machines are used in most industries and are a preferred choice of big companies for cleaning purposes. The machines are popular worldwide, as they are available in many power configurations and include numerous innovative technologies.
All of Daimer®'s exclusive carpet shampooer machines feature its Modular System Design™ (MDS™) and Self-Maintenance Engineering™ (SME™) technologies that make the replacement of parts quite easy for its customers. Parts can be purchased from the company itself, and users do not need to send the machine to a repair facility for parts replacement. The company designs its products in an uncomplicated way, unlike other brands' equipment, which requires professional maintenance and repair facilities.
The XTreme Power® XPH-9300U carpet cleaner from Daimer® comes with two powerful heating elements that make the machine reach high temperatures within just five minutes. Users can easily adjust the temperature as needed. Carpets made of wool or natural fibers should be cleaned with cold water, as hot water can shrink the carpet fibers or damage them. The Advanced, Adjustable Temperature Control™ technology makes the carpet extractor versatile enough to maintain different types of carpets or types of fibers. The 9300U will be a vital piece of powerful car wash equipment for serious car rental agencies.
For removing most stains and dirt buildup from car interiors, carpets and upholstery should be pre-sprayed with a cleaning liquid, such as Daimer® 's Eco-Green® Carpet Care & Upholstery Cleaner concentrate, which is completely soap free and plant based. Two gallons of this solution is bundled at no charge with all its carpets cleaner systems during promotions. The solution does no harm to the environment or to anyone with chemical sensitivities. The product is green and gets extracted immediately with the help of Daimer®'s high-quality wand.
The right accessories make a machine highly versatile to handle different kinds of cleaning applications. The XTreme Power® XPH-9300U carpet cleaning equipment can be bought with an optional 12 inch carpet wand that is used for regular carpet cleaning so the systems can be used ash carpeted floor cleaning equipment. The patented 12" XTreme-XTraction™ wand technology is included with all the XTreme Power® conventional carpet steam cleaners. The technology offers 60 percent greater suction than other models from other brands. The extraction capability of the machine is equivalent to using another vacuum motor. Residue-free carpets remain cleaner for a long time.
For extra convenience, Daimer® offers 25' hoses that can clean a 2000 square foot area without moving the machine. Customers can also buy staircase wands for maintaining carpeted stairs in homes and businesses.
For Additional Information:
Contact Matthew Baratta at (888) 507-2220 or visit the company's website to discover more benefits of the XTreme Power® XPH-9300U. The systems are shipped to most countries across the globe.
About Daimer Industries, Inc.®:
Daimer Industries, Inc.® is the internationally renowned brand of cleaning machines, such as carpet cleaner systems, gum removers, auto detailing machines, tile and grout cleaners, vapor steam cleaners, steam vacuum cleaners, pressure washers, and hard surface cleaners. The machines are used for various applications, including restroom sanitizing, kitchen cleaning, rust removal from metal surfaces, grease removal, gym equipment cleaning, parking lot maintenance, gum removal from public areas like stadiums, and many more.
Visit Blog: http://daimerindustries.blogspot.com/